101 Dalmatian Street (location)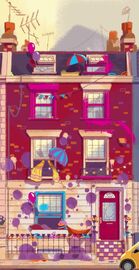 101 Dalmatian Street is the address of the house that Doug, Delilah, Dylan, Dolly and the other Dalmatian puppies live at. It is an upscale townhouse in Camden Town, London, England and owned by an eccentric billionaire who lives on a private island and has tech gadgets in the home that take care of them, thus allowing the Dalmatians to live in the house by themselves without need of human care or supervision.
Some of the house's features include an automatic dog feeder, a food dish dispenser, a paw print biometric lock for the doors and large closets for storing various toy balls, as well as chew and squeak toys.