Welcome to Camden Town!
Welcome to the

We are currently editing over 423 articles, and 2,363 files.
---
Welcome to 101 Dalmatian Street Wiki, The biggest collaborative encyclopedia for 101 Dalmatian Street!
101 Dalmatian Street Wiki, a fandom dedicated to the animated animated comedy adventure series 101 Dalmatian Street.
Fans and anyone interested in the series are welcome to contribute for all things related to 101 Dalmatian Street.
About the Show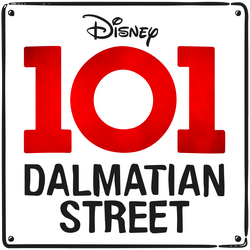 101 Dalmatian Street is an animated TV series, based loosely on the 1961 movie One Hundred and One Dalmatians. The series aired on Disney Channel in the UK and Ireland on December 14, 2018 as a sneak peek, and officially premiered in 2019. The series has updated the 101 Dalmatians franchise and moved to contemporary London, depicting the adventures of eldest Dalmatian siblings Dylan and Dolly, parents Doug and Delilah, and 97 younger puppies, all with names beginning with "D", who live all by themselves at the titular address in Camden Town

W

.
Featured Character of June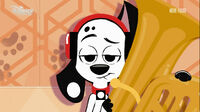 D.J. Dalmatian is a male Dalmatian dog and one of the main characters of 101 Dalmatian Street.
Polls
What do you think Dorothy will grow up to be?
Would you like to see Da Vinci use the Worldwide Woof in a future episode?
Blogs
Notice
To edit 101 Dalmatian Street Wiki, you must sign in due to abusive IPs. If you are 13 years of age or older then click here to sign in and start editing! If not, you are not allowed to make an account due to the Children's Online Privacy Protection Act (AKA: COPPA).
Create an Article
To create a new article, write its title in the box below.
Community
You can befriend other 101DS lovers on our community Discord and Amino

Visit our official site The Daily Puppy of the wiki. TheDailyPuppy
We also have a subreddit and a TV Tropes wiki page. Come help contribute!
---
We are currently building wiki communities in the following languages:
Fanon


As the 101 Dalmatian Street Wiki is a canon database, it is not the ideal place for fanon material. If you're someone who would like to create such material, please check out the 101 Dalmatian Street Fanon Wiki! However, you could make discussions or comments on this wiki here on fanfic material though.
---
101 Dalmatian Street belongs to Passion Animation Studios and Atomic Cartoons. All rights reserved.
Community content is available under
CC-BY-SA
unless otherwise noted.