SPOILER ALERT!
The below information contains spoilers for a episode or short. Please watch the episode or short in question if you haven't seen it already.
A Date with Destiny… Dallas and Déjà Vu is the first segment of the 11th episode in Season 1 of 101 Dalmatian Street. It is the 20th episode overall.
Synopsis
Dylan worries about the safety of the Triple D when they star in a series of increasingly dangerous stunts for an ad campaign.
Characters
International broadcast
Country
Airdate
Time
Language version
Brazil
September 16, 2019
Brazilian Portuguese
Latin America
Latin American Spanish
Germany
October 3, 2019
German
Japan
October 6, 2019
Japanese
Russia
12:00 (GMT+3)
Russian
Denmark
October 12, 2019
Danish
Sweden
Swedish
Norway
Norwegian
Portugal
11:22 (GMT+1)
European Portuguese
Czech Republic
Czech
Hungary
Hungarian
North America
January 21, 2020
N/A
English
Names in other languages
Brazilian Portuguese: Um Encontro com a Destiny, a Dallas e a Déjà Vu
Danish: Destiny, Dallas og Déjà Vu leger med skæbnen
European Portuguese: Um Encontro com… Destiny, Dallas e Déjà Vu
German: Sicherheit geht vor
Hungarian: Velünk senki sem szőrözhet
Japanese: 危険なファンにご用心
Latin American Spanish: La vocación de Destiny Dallas y Déjà Vu
Norwegian: En date med Destiny, Dallas og Deja Vu
Russian: Свидание с Дестини, Даллас и Дежавю
Swedish: En dejt med Trippel D
Plot
TBA
Trivia
This is the first episode to air on a Saturday.
The music from this episode was used earlier on in the short Diva Pups.
This is the second episode in the Hunter Story Arc.
Gallery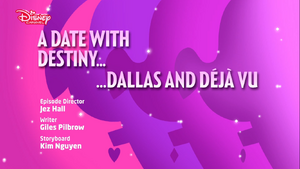 The image gallery for A Date with Destiny… Dallas and Déjà Vu may be viewed here.
Videos
References
Community content is available under
CC-BY-SA
unless otherwise noted.