— WARNING! —
The below information contains spoilers for a episode or short. Please watch the episode or short in question if you haven't seen it already.
"A Right Royal Rumble" is the 19th episode of 101 Dalmatian Street. The episode originally aired in France on May 16, 2019, with a few countries following suit before airing in the UK on August 17, 2019.
Synopsis
When Clarissa tries to hog the royal visit to Camden Town from the Dalmatian family, Dolly's revolution causes chaos and puts poor Pearl in a pickle in the process. It soon makes the Royal Corgis, however, new friends of the Dalmatians.
Characters
Plot
International release
Country
Airdate
Time
Language version
France
May 16, 2019
17:15 (UTC+02:00)
French
Luxembourg
Switzerland
Spain
May 18, 2019
09:40 (UTC+02:00)
European Spanish
Andorra
Portugal
10:35 (UTC+01:00)
European Portuguese
Italy
Italian
Switzerland
South Africa
June 13, 2019
17:00 (UTC+04:00)
16:00 (UTC+03:00)
15:00 (UTC+02:00)
14:00 (UTC+01:00)
13:00 (UTC)
English
Middle East
Arabic
Greece
Greek
Bulgaria
17:00 (UTC+03:00)
Bulgarian
Romania
Romanian
Moldova
Poland
16:00 (UTC+02:00)
Polish
Czechia
18:30 (UTC+02:00)
Czech
Hungary
Hungarian
United Kingdom
August 17, 2019
English
Ireland
Brazil
September 12, 2019
Brazilian Portuguese
Mexico
Latin American Spanish
Japan
September 22, 2019
10:30 (UTC+09:00)
Japanese
Denmark
September 28, 2019
10:00 (UTC+03:00)
09:00 (UTC+02:00)
Danish
Finland
Finnish (subtitles)
Norway
Norwegian
Sweden
Swedish
Estonia
English
Russian
Latvia
Lithuania
Germany
October 2, 2019
17:30 (UTC+02:00)
German
Austria
Liechtenstein
Luxembourg
Switzerland
Russia
October 5, 2019
12:00 (UTC+10:00)
Russian
12:00 (UTC+07:00)
12:00 (UTC+05:00)
12:00 (UTC+03:00)
Southeast Asia
October 27, 2019
10:30 (UTC+09:00)
09:30 (UTC+08:00)
08:30 (UTC+07:00)
English
Indonesian
Malay
Mandarin
Thai
09:30 (UTC+07:00)
Vietnamese (subtitles)
Hong Kong
January 17, 2020
18:30 (UTC+08:00)
English
Cantonese
Taiwan
Mandarin
Names in other languages
Arabic: معركة ملكية
Bulgarian: Голямото кралско недоволство
Cantonese: 自私的教訓
Czech: Pravý královský rachot
Danish: Den der ler sidst…
Dutch: Koninklijk gedoe
French: Parade royale
German: Der königliche Besuch
Hebrew: בלגן מלכותי
Hungarian: Felségek fergeteges felvonulása
Italian: Una rissa colossale
Japanese: 王族がやってきた
Mandarin: 自私的教訓
Norwegian: Et kongelig kunststykke
Polish: Królewska awantura
Portuguese (Brazil): A Disputa da Realeza
Portuguese (European): Uma Confusão Real
Romanian: Haos princiar
Russian: Королевский визит
Spanish (European): Un real alboroto
Spanish (Latin American): Un caos real a la medida
Swedish: Kungligt besök
Vietnamese: Vụ náo loạn trên phố
Trivia
This episode was supposed to air on April 30th, but it was moved for unknown reasons.

However, this episode did air in a few countries before its actual airtime.

This episode uses the same title card design from Who the Dog Do You Think You Are?.

It is also the third time that a title card was used as a stock.

This is the first episode of the series to feature an episodic director. In the case, Jez Hall.
This is Captain Walker's first appearance since All Fired Up.
Gallery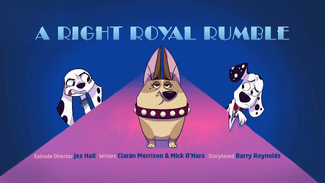 The image gallery for A Right Royal Rumble may be viewed here.
References
Community content is available under
CC-BY-SA
unless otherwise noted.