Jurassic World: Dominion Dominates Fandom Wikis - The Loop
Play Sound
"All Fired Up" is the 10th episode of 101 Dalmatian Street and the second part of the fifth episode in the Disney+ release.
It was the 5th episode to be released worldwide. The episode was first released in Hungary in VOD services on March 20, 2019, then aired on television in Belgium, France, Netherlands and Germany on March 27, 2019, and finally aired in the UK on April Fools Day 2019.
Synopsis
Dolly goes to work with Doug, expecting fire-fighting thrills, but is disappointed with the boring mood there. Her attempts to liven things up backfire, but she redeems herself by helping to save the day.
Plot
For a full plot of "All Fired Up", click here.
Transcript
For a full transcript of "All Fired Up", click here.
Characters
International release
Country
Airdate
Time
Language version
Netherlands
March 27, 2019
Dutch
Belgium
17:15 (UTC+01:00)
Dutch
French
France
French
Luxembourg
Switzerland
Germany
17:40 (UTC+01:00)
German
Austria
Liechtenstein
Luxembourg
Switzerland
Italy
March 28, 2019
Italian
Switzerland
United Kingdom
April 1, 2019
English
Ireland
Bulgaria
April 3, 2019
Bulgarian
Romania
Romanian
Moldova
Denmark
17:00 (UTC+03:00)
16:00 (UTC+02:00)
Danish
Finland
Finnish (subtitles)
Norway
Norwegian
Sweden
Swedish
Estonia
English
Russian
Latvia
Lithuania
Poland
Polish
Czechia
18:30 (UTC+02:00)
Czech
Hungary
Hungarian
South Africa
April 10, 2019
17:00 (UTC+04:00)
16:00 (UTC+03:00)
15:00 (UTC+02:00)
14:00 (UTC+01:00)
13:00 (UTC)
English
Middle East
Arabic
Greece
Greek
Spain
April 20, 2019
European Spanish
Andorra
Portugal
European Portuguese
Brazil
June 14, 2019
12:30 (UTC-02:00)
11:30 (UTC-03:00)
10:30 (UTC-04:00)
09:30 (UTC-05:00)
Brazilian Portuguese
Mexico
11:00 (UTC-05:00)
10:00 (UTC-06:00)
09:00 (UTC-07:00)
Latin American Spanish
South Korea
August 12, 2019
16:42 (UTC+09:00)
Korean
Japan
August 18, 2019
10:42 (UTC+09:00)
Japanese
Russia
September 15, 2019
12:12 (UTC+10:00)
Russian
12:12 (UTC+07:00)
12:12 (UTC+05:00)
12:12 (UTC+03:00)
Southeast Asia
October 13, 2019
10:42 (UTC+09:00)
09:42 (UTC+08:00)
08:42 (UTC+07:00)
English
Indonesian
Malay
Mandarin
Thai
09:42 (UTC+07:00)
Vietnamese (subtitles)
Hong Kong
December 13, 2019
18:42 (UTC+08:00)
English
Cantonese
Taiwan
Mandarin
Names in other languages
Arabic: التحمس للنيران
Bulgarian: Разпалване
Cantonese: 全力出動
Czech: V jednom ohni
Danish: Med far på arbejde
Dutch: In vuur en vlam
Finnish: Tulta ja tappuraa
French: Tout feu, tout flamme
German: Feuer und Flamme
Hebrew: תהיה אש!
Hungarian: Háztűznézőben
Italian: Pompieri al lavoro
Japanese: パパはヒーロー
Mandarin: 全力出動
Norwegian: I fyr og flamme
Polish: Pali się
Portuguese (Brazilian): Pegando Fogo
Portuguese (European): Entusiasmo Ardente
Romanian: Pompier pentru o zi
Russian: С огоньком
Spanish (European): Toda entusiasmada
Spanish (Latin American): Bomberos al rescate
Swedish: Helt uppeldad
Turkish: Heryer Yanıyor
Vietnamese: Học làm lính cứu hỏa
Trivia
Worldwide, this is the first episode to have a premiere be on VOD instead of television.

Also, this came out as the second segment of the 5th episode in both airing and production order, but it came on a earlier date on VOD which makes this the 5th episode to be released.

This marks the first episode where Delilah does not appear.
This is the first episode to premiere on a Wednesday, along with "Walkies on the Wild Side".
This marks the first appearances of Constantin and Captain Walker.
This is Delgado's first major role.
Gallery

Click here to view the gallery.
Merchandise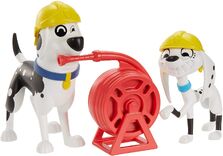 References