"We gotta get home for dinner!"
This article is a stub. You can help 101 Dalmatian Street Wiki by expanding it.
— WARNING! —
The below information contains spoilers for a episode or short. Please watch the episode or short in question if you haven't seen it already or view a different article.

When the episode or short becomes a year old (at least when it airs or releases in the UK and Ireland), this template would get removed.
"Balancing Act" is the 41st episode of 101 Dalmatian Street. The episode originally aired in Belgium on January 23, 2020, and then in the UK and Ireland on February 6, 2020.[1] [2]
Synopsis
When Dolly gets to the top of a crate that was later picked up by a crane, Dylan must save her before she goes into another storm.
Plot
It is a rainy day outside and Dolly is entertaining not just herself, but the pups by skateboarding around the house. However, she shreds Doug's face off of the family portrait with her skateboard. Dylan is cleaning around the house when he almost accidentally vacuums the remains of paper showing Doug's face. When Delilah enters the room, she thinks Dylan purposely vacuumed Doug's face off the picture. Dylan is frustrated at Dolly for carelessly ripping a piece of the portrait and Delilah blamed him for that. The rain stops, and the pups go outside to play. When Dolly is jumping on her trampoline, a crane carrying a large metal box suddenly hovers over the neighborhood. All the pups stare at the thing in awe. Dolly sees the box as the "ultimate climbing challenge." Reasonably, Dylan knows Dolly's idea is not going to go well. Dolly makes leaps and bounds on objects of the dalmatian's property until she runs on the surface of the crane. Dolly lands on the box and the pups applaud for her. Suddenly, the construction worker inside the machine pulls a lever, causing the box moves higher and higher.
Dolly takes no notice of the danger and risk she is getting into until there is a clang from the machine. The construction worker takes a break from his duty. The box moves back and forth and Dolly dangerously slips on the edges. The motion of the box even breaks into houses and neighborhood property. Dylan and Dawkins call Doug for help using the World Wide Woof. However, Doug is listening to a video with headphones in the fire station, blocking out the World Wide Woof. The box is still swinging back and forth. Dylan encourages Dolly so stay still to reduce the risk of damage.
Dolly is getting bored to sleep when Dylan is reading space facts to her. She slips to the edge of the box when she falls asleep. Dylan tries other things to keep Dolly collected, such as reviewing next week's cleaning schedule and trying to speak "skate." Dolly then laughs at him, which causes her to again slip to the edge of the crate. Then Dolly is hungry, and it doesn't help when Clarissa tantalizes her when she receives a big, juicy steak from her owner. She throws the steak at Dolly, causing her to run on the crate. Dolly misses the piece of steak, unfortunately, and the crate crashes into Clarissa's window.
Dylan decides to use DJ for backup. The music is calming, but too calming because it is lulling Dolly to sleep. She slips on the edge of the crate. DJ switches the music to energizing techno, waking Dolly up. Dolly and Dylan are screaming in panic because of her dangling right off the edge of the crate. Meanwhile, Constantin has called officer Pearl to witness the damage the swinging crate has done to his property. Then it starts to rain. The rain makes the surface of the crate more slippery, making climbing on top harder for Dolly. Using a trampoline and wearing an astronaut helmet, Dylan sets himself onto the opposite edge of the crate.
Dolly finally confesses that she ripped Doug's face off of the family portrait. Meanwhile, the construction worker returns and goes back to work on the machine. Dolly makes other confessions to Dylan while the crate is being lowered in the rain. Dylan soon forgives Dolly for letting him take the blame of those situations. They finally hold paws just when the crate touches the ground. Doug arrives home and wonders what happened to his face in the portrait. Dolly jokes about who would do such a thing before giggling and running away mischievously.
Characters
International release
Country
Airdate
Time
Language version
Belgium
January 23, 2020
07:05 (UTC+01:00)
Dutch
French
United Kingdom
February 6, 2020
10:00 (UTC)
English
Ireland
Netherlands
February 15, 2020
10:30 (UTC+01:00)
Dutch
South Africa
February 16, 2020
February 17, 2020 (UTC+04:00)
00:25 (UTC+04:00)
23:25 (UTC+03:00)
22:25 (UTC+02:00)
21:25 (UTC+01:00)
20:25 (UTC)
English
Middle East
Arabic
Greece
Greek
Russia
February 18, 2020
17:05 (UTC+10:00)
Russian
17:05 (UTC+07:00)
17:05 (UTC+05:00)
17:05 (UTC+03:00)
France
February 25, 2020
16:50 (UTC+01:00)
French
Luxembourg
Switzerland
Denmark
March 7, 2020
10:15 (UTC+02:00)
09:15 (UTC+01:00)
Danish
Finland
Finnish (subtitles)
Norway
Norwegian
Sweden
Swedish
Estonia
English
Latvia
Lithuania
Italy
March 7, 2020
09:20 (UTC+01:00)
Italian
Switzerland
Portugal
April 2, 2020
11:50 (UTC+01:00)
European Portuguese
Germany
April 3, 2020
18:00 (UTC+02:00)
German
Austria
Liechtenstein
Luxembourg
Switzerland
Czechia
April 27, 2020
06:00 (UTC+02:00)
Czech
Hungary
Hungarian
Southeast Asia
May 23, 2020
10:30 (UTC+09:00)
09:30 (UTC+08:00)
08:30 (UTC+07:00)
English
Indonesian
Malay
Mandarin
Thai
09:30 (UTC+07:00)
Vietnamese (subtitles)
Japan
May 24, 2020
10:30 (UTC+09:00)
Japanese
Poland
June 15, 2020
22:20 (UTC+02:00)
Polish
Hong Kong
June 19, 2020
18:30 (UTC+08:00)
English
Cantonese
Taiwan
Mandarin
Bulgaria
June 28, 2020
07:30 (UTC+03:00)
Bulgarian
Romania
Romanian
Moldova
Israel
July 13, 2020
17:25 (UTC+03:00)
Hebrew
Mexico
August 12, 2020
10:15 (UTC-05:00)
09:15 (UTC-06:00)
08:15 (UTC-07:00)
Latin American Spanish
Brazil
14:00 (UTC-02:00)
13:00 (UTC-03:00)
12:00 (UTC-04:00)
11:00 (UTC-05:00)
Brazilian Portuguese
Names in other languages
Cantonese: 高空危機
Czech: Balancování
Danish: Balancegang
Dutch: Een kwestie van balans
French: Exercice d'équilibriste
German: Der Balanceakt
Hebrew: בין שמיים לארץ
Hungarian: Egyensúly bajnokság
Italian: Esercizio di equilibrio
Japanese: わんぱくドリー
Mandarin: 高空危機
Norwegian: Balansekunst
Polish: Na krawędzi
Portuguese (European): Número de Equilibrismo
Russian: Между небом и землёй
Spanish (European): Manteniendo el equilibrio
Spanish (Latin American): Acto de equilibrio
Swedish: Balansakten
Vietnamese: Giữ thăng bằng trên cao
Gallery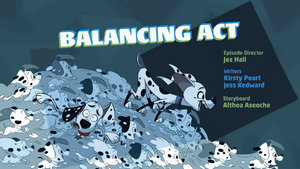 The image gallery for Balancing Act may be viewed here.
References
Community content is available under
CC-BY-SA
unless otherwise noted.