"Boom Night" is the 2nd episode of 101 Dalmatian Street and the second part of the first episode of the Disney+ release.
The episode originally aired in the Middle East and South Africa on December 14, 2018 alongside "Dog's Best Friend", with a few countries following suit before airing in the UK on March 18, 2019, alongside mentioned episode. This episode was also released on Disney Channel UK & Ireland's YouTube channel as a sneak peek on March 4, 2019. In the United States, it premiered alongside "Dog's Best Friend", "Muddy Pups", "Power to the Puppies" and "Who the Dog Do You Think You Are?" on March 29, 2021.
Synopsis
When Doug and Delilah lock the house preparing for Boom Night (nicknamed Guy Fawkes Night), Dolly and Dorothy both manage to sneak out. Though Dolly wants to hangout with the Canal Crew, Dylan is worried about Dorothy escaping herself alone.
Plot
For a full plot of "Boom Night", click here.
Transcript
For a full transcript of "Boom Night", click here.
Characters
International release
Country
Airdate
Time
Language version
South Africa
December 14, 2018
09:42 (UTC+04:00)
08:42 (UTC+03:00)
07:42 (UTC+02:00)
06:42 (UTC+01:00)
05:42 (UTC)
English
Middle East
Arabic
Greece
Greek
Germany
December 15, 2018
11:07 (UTC+01:00)
German
Austria
Liechtenstein
Luxembourg
Switzerland
Denmark
December 16, 2018
10:02 (UTC+02:00)
09:02 (UTC+01:00)
Danish
Finland
Finnish (subtitles)
Norway
Norwegian
Sweden
Swedish
Estonia
English
Russian
Latvia
Lithuania
France
10:45 (UTC+01:00)
French
Luxembourg
Switzerland
Belgium
16:42 (UTC+01:00)
Dutch
French
Bulgaria
December 21, 2018
11:12 (UTC+02:00)
Bulgarian
Romania
Romanian
Moldova
Czechia
18:42 (UTC+01:00)
Czech
Hungary
Hungarian
Poland
Polish
United Kingdom
March 18, 2019
English
Ireland
Italy
19:15 (UTC+01:00)
Italian
Switzerland
Spain
March 23, 2019
European Spanish
Andorra
Portugal
European Portuguese
Australia
June 1, 2019
10:09 (UTC+12:45)
09:24 (UTC+12:00)
07:24 (UTC+10:00)
06:54 (UTC+09:30)
05:24 (UTC+08:00)
English
New Zealand
Brazil
June 2, 2019
12:30 (UTC-02:00)
11:30 (UTC-03:00)
10:30 (UTC-04:00)
09:30 (UTC-05:00)
Brazilian Portuguese
Mexico
11:12 (UTC-05:00)
10:12 (UTC-06:00)
09:12 (UTC-07:00)
Latin American Spanish
Japan
July 6, 2019
13:12 (UTC+09:00)
Japanese
South Korea
July 22, 2019
16:42 (UTC+09:00)
Korean
Russia
September 7, 2019
12:12 (UTC+10:00)
Russian
12:12 (UTC+07:00)
12:12 (UTC+05:00)
12:12 (UTC+03:00)
Southeast Asia
October 5, 2019
10:42 (UTC+09:00)
09:42 (UTC+08:00)
08:42 (UTC+07:00)
English
Indonesian
Malay
Thai
09:42 (UTC+07:00)
Vietnamese (subtitles)
Hong Kong
October 11, 2019
17:45 (UTC+08:00)
English
Cantonese
Taiwan
Mandarin
Southeast Asia
September 19, 2020
10:42 (UTC+09:00)
09:42 (UTC+08:00)
08:42 (UTC+07:00)
Mandarin
Names in other languages
Bulgarian: Бум нощта
Cantonese: 砰砰夜
Czech: Búm noc
Danish: Bangaften
Dutch: Boemnacht
Finnish: Jytinäilta
French: La Nuit qui fait "boum !"
German: Die Wumm-Nacht
Hebrew: ליל הבום
Hungarian: Bumm banzáj
Italian: La notte dei fuochi d'artificio
Japanese: 爆発ナイト
Korean: 불의 밤
Mandarin: 砰砰夜
Norwegian: Smell-kveld
Polish: Wielkie bum
Portuguese (Brazilian): A Noite do "Bum"
Portuguese (European): Noite das Explosões
Romanian: Seara boom
Russian: Ночь фейерверков!
Spanish (European): Noche de explosiones
Spanish (Latin American): Noche explosiva
Swedish: Boomafton
Vietnamese: Đêm pháo hoa
Trivia
This episode is a parody of The Purge franchise.
Because of the location of the show and the autumn colors of the park, it is safe to say that the inspiration for the episode stems from "Guy Fawkes Night", a holiday celebrated in the UK.
During the search montage, Mr. Fuzzy can be seen, still with the vendor who the Dalmatians hooked him up with.
This is the last episode released worldwide in 2018.

This is also the first episode to air in the UK in 2019 and the first episode airing on a Monday.
Toys
https://twitter.com/cadpig101/status/1213220841179058177
Gallery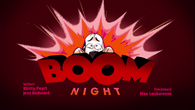 Click here to view the gallery.
References