SPOILER ALERT!
The below information contains spoilers for a episode or short. Please watch the episode or short in question if you haven't seen it already.
Dal-Martians is the second segment of the 10th episode in season 1 of 101 Dalmatian Street. It is the 19th episode overall.
Synopsis
It's payback time. Dolly and Dawkins set know-it-all Dylan up to believe that aliens have landed in Camden and that he is the only one who stands between doggy-kind and imminent annihilation! Unfortunately, the thing gets way out of hand.
Characters
Plot
Dolly is pretending she is speeding down a ramp at 500 miles per hour on her skateboard. She aces a ramp which, to her imagination, anyone who crossed the ramp has never made it alive. Her imagination shows that Dolly shot up so high she could see the curvature of earth. Dylan brings her back to reality with humor in his expression. The audience watching Dolly show off other than the dalmatian pups is Roxy and a beat boxing pigeon, who now just flew away. He further reasons that science is based on factual evidence instead of silly, idealistic stories and also gives criticism to Dawkins, saying "I think I took you as a dog of science." He lures his sidekick to look for intelligent life forms with a hint of sarcasm. Dolly and Dawkins both think Dylan is just annoying, when Roxy compares to how people are pretending to be aliens. Dolly and Dawkins get an idea from the people playing in alien costumes, claiming they will "give Dylan intelligent life forms" with the Grinch look plastered on their faces.
Trivia
In the U.K., this episode was supposed to air on May 1st, but it was moved to August 18th instead.
This episode uses the same title card design from Flea-Mageddon. Instead of fleas though, it's spaceships. It is also the fourth time that a title card was used as a stock.
The Drake equation created by Frank Drake was mentioned in this episode, witch makes it also the first time that a real person was mentioned.
Roxy is the only dog character in the episode to not be a dalmatian.
Although Diesel appears in the title card of the episode, he's actually absent though out the whole thing of the episode.
Gallery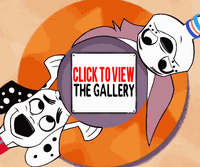 Click here to view the gallery.
Names in other languages
Italian: Invasione aliena
Polish: Dal-Marsjanie
Spanish: Dal-Marcianos
References
Community content is available under
CC-BY-SA
unless otherwise noted.