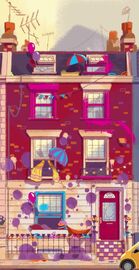 The Dalmatian family is a large family of 101 Dalmatians that live at 101 Dalmatian Street in Camden Town, London and the main characters of the TV-series 101 Dalmatian Street.
Delilah is a British dog and is the great-great-granddaughter of Pongo and Perdita [1]. She's married to American dog Doug. Together the two have a total of 99 kids from their previous marriages, some of the 99 Dalmatian puppies that appear on the show are descendants of Pongo and Perdita on Delilah's side of the family.
All the kids' names also start with "D", creating alliteration with the family surname Dalmatian. The parents go to work while the oldest siblings, Dylan and Dolly take care of the other siblings (the comic reliefs of the show).
International Changes
The Japanese version of the show changes the backstory and expands it; before the two met, Delilah and Doug had fifteen puppies each, from previous relationships, including Dylan and Dolly; then the two got together, they then had another fifteen puppies, before then adopting 54 more, be it from rescue shelters or by taking in strays.[2] This version being more similar to the original movie as the other 84 were adopted after being rescued from Cruella De Vil.
Members
Original Members
The creators stated that the characters of the original movie are in the official canon of the series. They are only mentioned as part of the backstory.
Pongo (great-grand father)
Perdita (great-grand mother)
Lucky (son; possible uncle or father)
Patch (son; possible uncle or father)
Rolly (son; possible uncle or father)
Penny (child; possible parent or pibling)
Freckles (child; possible parent or pibling)
Pepper (child; possible parent or pibling)
Current Members
Main Characters
Recurring Characters
References
↑ 101匹わんちゃんストリート#3[ニ]. skyperfectv (10 November 2019). Retrieved on 2019 November 10. "Dylan's mother with 15 puppies and Dolly's father with 15 puppies come together, and 15 other puppies are born. In addition, rescue shelter dogs and stray dogs were received one after another, and now a total of 101 Dalmatians live in London as a family. A fun series of comedy adventures that represents the turmoil and adventure around the puppies, centered on Dolly and Dylan, who take care of their siblings on behalf of their busy father and mother.
"