"We gotta get home for dinner!"
This article is a stub. You can help 101 Dalmatian Street Wiki by expanding it.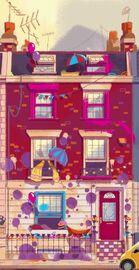 The Dalmatian family is a large family of 101 Dalmatians that live at 101 Dalmatian Street in Camden Town, London and the main characters of the TV-series 101 Dalmatian Street.
Delilah is a British dog and is the great-great-granddaughter of Pongo and Perdita [1], she's married to American dog Doug. Together the two have a total of 99 kids from their previous marriages. All the kids' names also starts with "D". The parents go to work while the oldest siblings, Dylan and Dolly take care of the other siblings (the comic reliefs of the show).
The Japanese version of the show changes the backstory and expands it; before meeting each other, Delilah and Doug each had a litter of 15 puppies, including Dylan and Dolly; they then got together and had another litter of 15 puppies, before then adopting 54 more puppies, either being strays or coming from rescue shelters. This version being more similar to the original movie as the other 84 were adopted after being rescued from Cruella De Vil.
Members
Grand Parents
Parents
Puppies
Others (Recurring)
The other puppies in the family are recurring characters. They don't appear as much screen time as the other characters and are mostly seen as characters in the background. On February 24, 2019, Disney Channel UK's YouTube channel hosted a "puppy name game" in which several actors revealed the names of the rest of the Dalmatian family. There is more names in 101 Dalmatians Street soundtrack song called " In the House". Just released in Spotify and Amazon Music or Youtube. Official names were later released on March 16,2019 on Disney Channel Deutschland 's channel titled '101 Namen Song'
References
Community content is available under
CC-BY-SA
unless otherwise noted.