"We gotta get home for dinner!"
This article is a stub. You can help 101 Dalmatian Street Wiki by expanding it.
"Dawkins Strikes Back" is the 42nd episode of 101 Dalmatian Street. It aired in Belgium on January 24, 2020, and then aired in the UK on February 6, 2020.[1] [2]
Synopsis
Dawkins goes on strike after being underappreciated by Dylan and Dolly.
Characters
Plot
TBA
International release
Country
Airdate
Time
Language version
Belgium
January 24, 2020
07:05 (UTC+01:00)
Dutch
French
United Kingdom
February 6, 2020
10:15 (UTC)
English
Ireland
Netherlands
February 16, 2020
10:30 (UTC+01:00)
Dutch
South Africa
February 16, 2020
February 17, 2020 (UTC+04:00)
00:37 (UTC+04:00)
23:37 (UTC+03:00)
22:37 (UTC+02:00)
21:37 (UTC+01:00)
20:37 (UTC)
English
Middle East
Arabic
Greece
Greek
Russia
February 18, 2020
17:20 (UTC+10:00)
Russian
17:20 (UTC+07:00)
17:20 (UTC+05:00)
17:20 (UTC+03:00)
France
February 26, 2020
16:50 (UTC+01:00)
French
Luxembourg
Switzerland
Italy
March 8, 2020
09:20 (UTC+01:00)
Italian
Switzerland
Denmark
March 14, 2020
10:15 (UTC+02:00)
09:15 (UTC+01:00)
Danish
Finland
Finnish (subtitles)
Norway
Norwegian
Sweden
Swedish
Estonia
English
Latvia
Lithuania
Portugal
April 2, 2020
12:02 (UTC+01:00)
European Portuguese
Germany
April 4, 2020
18:00 (UTC+02:00)
German
Austria
Liechtenstein
Luxembourg
Switzerland
Czechia
April 27, 2020
06:12 (UTC+02:00)
Czech
Hungary
Hungarian
Southeast Asia
May 23, 2020
10:42 (UTC+09:00)
09:42 (UTC+08:00)
08:42 (UTC+07:00)
English
Indonesian
Malay
Mandarin
Thai
09:42 (UTC+07:00)
Vietnamese (subtitles)
Japan
May 24, 2020
10:42 (UTC+09:00)
Japanese
Poland
June 15, 2020
22:20 (UTC+02:00)
Polish
Hong Kong
June 26, 2020
18:30 (UTC+08:00)
English
Cantonese
Taiwan
Mandarin
Names in other languages
Cantonese: 阿杜罷工記
Danish: Dawkins strejker
Dutch: Dawkins staakt
French Dawkins fait grève
German: Dawkins im Streik
Hungarian: Szabadtéri sztrájk
Italian: Dawkins colpisce ancora
Japanese: 戦うドーキンズ
Mandarin: 阿杜罷工記
Norwegian: Dawkins streiker
Portuguese (European): Dawkins Faz Greve
Russian: Докинс наносит ответный удар
Spanish (Latin American): Dawkins contraataca
Swedish: Dawkins strejkar
Vietnamese: Dawkins đình công
Trivia
Gallery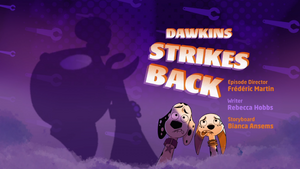 The image gallery for Dawkins Strikes Back may be viewed here.
Notes
References
Community content is available under
CC-BY-SA
unless otherwise noted.