— WARNING! —
The below information contains spoilers for a episode or short. Please watch the episode or short in question if you haven't seen it already or view a different article.

When the episode or short becomes a year old (at least when it airs or releases in the UK and Ireland), this template would get removed.
"Doggy Da Vinci" is the 28th episode of 101 Dalmatian Street. The episode originally aired on September 14, 2019.
Synopsis
Da Vinci creates street art that cause a sensation among the humans in Camden.
Plot
The dalmatians are once again playing in the backyard when all of a sudden a crack begins to tear across the ground until it creates a "surprise window" in their brick wall. Dylan is shocked by the damage that has occurred and Dolly calls upon Triple-D to secure the money. Unfortunately, Destiny and Dallas have lost their voices while Déjà Vu got a "grooming fail". Snowball arrives with her owner Stanislav who is trying to sell his t-shirts to market. While Da Vinci is painting Triple-D, the Dmitri Trio slip on her paints and get the t-shirts coated in them. Da Vinci adds to the shirts; giving them a really cool design. As Stanislav sells the shirts, he is surprised by the reaction he is getting and manages to make a lot of money from them. Pleased with how they turned out, Snowball shares the profits with the dalmatians to fix their wall and Da Vinci proceeds to produce similar shirts for Stanislav to sell who claims that they came from a "mystery artist".
Soon, Da Vinci begins to feel tired and overworked. Dylan suggests that she study to improve her work while Dolly thinks that she should just "aim and splat". When Da Vinci suggests changing it up a little, Snowball tells her that people want the same thing. The negative attention causes Da Vinci to see everything as dark and shady and everyone as soulless beasts who bark orders at her. She is further demoralized when she is told that she is a mystery artist and leaves home. She hits the streets and continues to paint murals on brick walls everywhere. Her work is spotted by humans who later discover her and send her image all over the internet where it is seen by everyone including Hunter and his hairless cat Cuddles. Dylan and Dolly realize that Da Vinci is gone and rush out to look for her; leaving the other dalmatians to, poorly, handle production.
Da Vinci is discovered by Chandler who alerts the rest of the humans who begin to chase her. To Da Vinci, they resemble a giant black cloud of people who antagonize her. She gets chased through Camden's streets, personified as a labyrinth while Hunter and Cuddles watch from afar. Dylan and Dolly see Da Vinci's latest mural (Da Vinci in black surrounded by evil versions of them) and realize that they have been pushing her. They find and rescue her from the people and take her back home. After having the wall fixed, Dylan and Dolly let Da Vinci paint to her heart's content on it. Meanwhile, Hunter and Cuddles have taken the opportunity to locate the dalmatians home.
Characters
International release
Country
Airdate
Time
Language version
United Kingdom
September 14, 2019
07:00 (UTC+01:00)
English
Ireland
Germany
October 5, 2019
17:42 (UTC+02:00)
German
Austria
Liechtenstein
Luxembourg
Switzerland
Portugal
October 12, 2019
12:18 (UTC+01:00)
European Portuguese
Italy
October 18, 2019
07:17 (UTC+02:00)
Italian
Switzerland
Southeast Asia
17:12 (UTC+09:00)
16:12 (UTC+08:00)
15:12 (UTC+07:00)
English
Indonesian
Malay
Mandarin
Thai
16:12 (UTC+07:00)
Vietnamese (subtitles)
Russia
October 19, 2019
12:12 (UTC+10:00)
Russian
12:12 (UTC+07:00)
12:12 (UTC+05:00)
12:12 (UTC+03:00)
Japan
October 20, 2019
10:42 (UTC+09:00)
Japanese
Czechia
October 26, 2019
06:12 (UTC+02:00)
Czech
Hungary
Hungarian
Poland
Polish
Bulgaria
Bulgarian
Romania
Romanian
Moldova
Netherlands
November 3, 2019
10:30 (UTC+02:00)
Dutch
France
November 8, 2019
07:22 (UTC+01:00)
French
Luxembourg
Switzerland
Denmark
November 16, 2019
10:00 (UTC+02:00)
09:00 (UTC+01:00)
Danish
Finland
Finnish (subtitles)
Norway
Norwegian
Sweden
Swedish
Estonia
English
Russian
Latvia
Lithuania
Brazil
December 9, 2019
12:30 (UTC-02:00)
11:30 (UTC-03:00)
10:30 (UTC-04:00)
09:30 (UTC-05:00)
Brazilian Portuguese
Mexico
12:00 (UTC-05:00)
11:00 (UTC-06:00)
10:00 (UTC-07:00)
09:00 (UTC-08:00)
Latin American Spanish
Hong Kong
March 27, 2020
18:30 (UTC+08:00)
English
Cantonese
Taiwan
Mandarin
Spain
April 7, 2020
18:22 (UTC+02:00)
17:22 (UTC+01:00)
European Spanish
Andorra
Names in other languages
Bulgarian: Кутре Давинчи
Cantonese: 神犬達文西
Czech: Psisko Da Vinci
Danish: Hunni Da Vinci
Dutch: Puppy Da Vinci
French: Léonarchiot Da Vinci
German: Die Pfotenkünstlerin
Hebrew: האמנות של דה וינצ'י
Hungarian: Művész vész
Italian: Il cucciolo artista
Japanese: 天才ダヴィンチ
Mandarin: 神犬達文西
Norwegian: Hunden Da Vinci
Polish: Psi Da Vinci
Portuguese (Brazilian): A Cachorrinha Da Vinci
Portuguese (European): Cachorra Da Vinci
Romanian: Cuțu Da Vinci
Russian: Собачка Да Винчи
Spanish (European): Cuatro patas Da Vinci
Spanish (Latin American): Perrita Da Vinci
Swedish: Dogge Da Vinci
Vietnamese: Chú chó Da Vinci
Trivia
It is the 28th episode in airing order, but produced as the 26th episode. The original spot in airing was taken over by "A Summer to Remember Part 2".
This is the third episode in the Hunter Story Arc.
Snowball's owner's name is revealed to be Stanislav.
This episode seems to suggest that Portia's human is the goth looking human who Dizzy and Dee Dee watched ordering black coffee in "Dog's Best Friend".
Gallery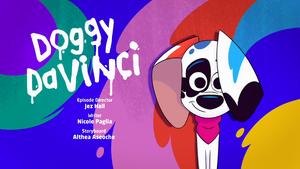 The image gallery for Doggy Da Vinci may be viewed here.
References
Community content is available under
CC-BY-SA
unless otherwise noted.