Dylan Dalmatian is a male Dalmatian dog and the protagonist of 101 Dalmatian Street. He is one of the eldest siblings among Delilah and Doug's puppies.[4][5] Both he and Dolly look after their younger siblings while their parents are busy at work.
Personality
Dylan is a pedantic control freak.[3] He tends to be the most responsible one in his family, contrasting Dolly's more adventurous personality. He's obssessed with space and wants to be the first dog on Mars. He likes writting poetry and collects dinosaur bones.
Appearance
Dylan has white fur with black spots, his right ear is black with white spots that resembles Canis Major. He also wears a red collar with a gray star attached to it.
Portrayals
Gallery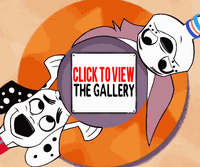 Click here to view the gallery.
Sightings
Trivia
In an early design, his head had a more block-like shape, and he looked more like an adult. He also had a yellow star instead of a gray one.
So far, he is the one that used the World Wide Woof signals the most in the series, along with Geoffrey, Hansel, and Snowball.
Names in other languages
Greek: Ντύλαν (transcription: Ntýlan)
References
Community content is available under
CC-BY-SA
unless otherwise noted.