— WARNING! —
The below information contains spoilers for a episode or short. Please watch the episode or short in question if you haven't seen it already or view a different article.

When the episode or short becomes a year old (at least when it airs or releases in the UK and Ireland), this template would get removed.
"Fear Window" is the 23rd episode of 101 Dalmatian Street. It was the 25th episode to be released worldwide. The episode originally aired in the UK on August 31, 2019.
Synopsis
Dolly is bed-bound with a cone to prevent her from itching herself and entertains herself by spying on the neighbors.
Plot
Dolly has a cast on her hind leg and a cone surrounding her head to prevent scratching, with the pampering of Triple D. Delilah catches Dolly and stops her from trying to scratch the bandaged injury, orders Triple D to leave, and requests Dylan to watch over Dolly as she spends her day at work. Dolly clearly gets bored as Dylan is going around doing household chores, so Dylan decides to offer her his telescope. She tries out the telescope and hears yapping. It's Clarissa who is apparently, and frequently, irritated at something. Dolly then is entertained as she spots the source of Clarissa's irritation, which is cat Constantin licking his anus on her yard's fence.
Dolly is peering through the telescope when she sees Clarissa taking out the garbage for her house. She calls for Dylan to come see. Dylan and Dolly then observe that Clarissa is discarding one of her owner Hugo's favorite items, such as his teapot. The Dalmatian pups suddenly at once call for Dylan and he leaves to take care of them. Dolly sees Clarissa discarding Hugo's slippers and kick dirt on them. Dolly calls for Dylan and this time, he appears carrying baby Dorothy. Dolly starts to believe Clarissa is suspicious and Dylan does not believe her.
Dolly wakes up at night to hear banging from outside. She sees Clarissa trying to smash a grand portrait of Hugo into the ground. Clarissa uses her claws and tears Hugo's face off in the portrait. This startles Dolly and she tries calling for Dylan and there is no response. She pretends that she is in pain and injured and yells for Dylan in a hurt, feeble voice. Dylan rushes right over and to his annoyance, is fooled. Dolly tells Dylan about Clarissa trashing all Hugo's furniture. Dylan says Dolly never cared for Hugo, yet Dolly argues that she thinks Clarissa is going overboard with how she is treating him. However, Dylan finds no scene when he peers into the telescope. Dolly checks and sees a chunk of Hugo's hair, shocked. Dolly insists she and Dylan seek Pearl for help.
Dylan and Pearl wait for a while, staying hidden. Just when Pearl senses her patience fading, the lights from Hugo's house flicker on. However, there is only the silhouettes of Hugo petting Clarissa. Pearl is annoyed at Dylan for "wasting police time."
Characters
International release
Country
Airdate
Time
Language version
United Kingdom
August 31, 2019
07:00 (UTC+01:00)
English
Ireland
Italy
September 28, 2019
Italian
Switzerland
Germany
October 4, 2019
17:30 (UTC+02:00)
German
Austria
Liechtenstein
Luxembourg
Switzerland
Portugal
October 12, 2019
11:45 (UTC+01:00)
European Portuguese
Japan
October 13, 2019
10:30 (UTC+09:00)
Japanese
Russia
12:00 (UTC+10:00)
Russian
12:00 (UTC+07:00)
12:00 (UTC+05:00)
12:00 (UTC+03:00)
Czechia
October 19, 2019
06:00 (UTC+02:00)
Czech
Hungary
Hungarian
Poland
Polish
Bulgaria
Bulgarian
Romania
Romanian
Moldova
Denmark
October 26, 2019
10:00 (UTC+03:00)
09:00 (UTC+02:00)
Danish
Finland
Finnish (subtitles)
Norway
Norwegian
Sweden
Swedish
Estonia
English
Russian
Latvia
Lithuania
Netherlands
Dutch
France
November 7, 2019
07:10 (UTC+01:00)
French
Luxembourg
Switzerland
Southeast Asia
November 16, 2019
10:30 (UTC+09:00)
09:30 (UTC+08:00)
08:30 (UTC+07:00)
English
Indonesian
Malay
Thai
09:30 (UTC+07:00)
Vietnamese (subtitles)
Brazil
December 3, 2019
12:30 (UTC-02:00)
11:30 (UTC-03:00)
10:30 (UTC-04:00)
09:30 (UTC-05:00)
Brazilian Portuguese
Mexico
12:00 (UTC-05:00)
11:00 (UTC-06:00)
10:00 (UTC-07:00)
09:00 (UTC-08:00)
Latin American Spanish
Australia
December 8, 2019
English
New Zealand
Hong Kong
March 6, 2020
18:30 (UTC+08:00)
English
Cantonese
Taiwan
Mandarin
Spain
April 6, 2020
18:10 (UTC+02:00)
17:10 (UTC+01:00)
European Spanish
Andorra
Names in other languages
Bulgarian: Страшният прозорец
Cantonese: 疑神疑鬼
Czech: Okno strachu
Danish: Frygtens vindue
Dutch: Op de uitkijk
French: Fenêtre sur chiens
German: Das Fenster zum Hof
Hebrew: חלון הפחד
Hungarian: Sasszem zabszem
Italian: La finestra della paura
Japanese: 恐怖の館
Mandarin: 疑神疑鬼
Norwegian: Skrekkens vindu
Polish: Okno strachu
Portuguese (Brazilian): A Janela do Medo
Portuguese (European): Janela do Medo
Romanian: Spionaj
Russian: Окно страха
Spanish (European): La ventana del fisgoneo
Spanish (Latin American): La ventana del miedo
Swedish: Skräckfönster
Vietnamese: Khung cửa đáng sợ
Trivia
This episode is a parody of the 1954 movie Rear Window.
This is the first episode to have a stock title card design be repeated.
In Southeast Asia, Clarissa's line "Hurry up, you imbecile!" was censored, with "imbecile" being muted, only in the English audio track.
Gallery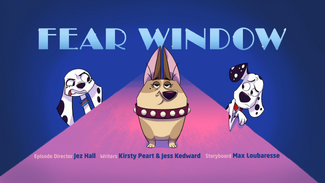 The image gallery for Fear Window may be viewed here.
References
Community content is available under
CC-BY-SA
unless otherwise noted.