— WARNING! —
The below information contains spoilers for a episode or short. Please watch the episode or short in question if you haven't seen it already.
"Flea-Mageddon" is the 18th episode of 101 Dalmatian Street. The episode originally aired on April 29, 2019.
Synopsis
There's a flea outbreak at 101 Dalmatian Street! Dylan springs into action by forcing the infected into quarantine. But the source of the infestation turns out to be quite the surprise.
Characters
Plot
International release
Country
Airdate
Time
Language version
United Kingdom
April 29, 2019
English
Ireland
France
May 15, 2019
17:15 (UTC+02:00)
French
Luxembourg
Switzerland
Spain
May 25, 2019
European Spanish
Andorra
Portugal
European Portuguese
Italy
May 26, 2019
Italian
Switzerland
Denmark
May 31, 2019
08:40 (UTC+03:00)
07:40 (UTC+02:00)
Danish
Finland
Finnish (subtitles)
Norway
Norwegian
Sweden
Swedish
Estonia
English
Russian
Latvia
Lithuania
South Africa
June 12, 2019
17:00 (UTC+04:00)
16:00 (UTC+03:00)
15:00 (UTC+02:00)
14:00 (UTC+01:00)
13:00 (UTC)
English
Middle East
Arabic
Greece
Greek
Bulgaria
17:00 (UTC+03:00)
Bulgarian
Romania
Romanian
Moldova
Poland
16:00 (UTC+02:00)
Polish
Czechia
18:30 (UTC+02:00)
Czech
Hungary
Hungarian
Brazil
September 11, 2019
Brazilian Portuguese
Mexico
Latin American Spanish
Japan
September 15, 2019
10:42 (UTC+09:00)
Japanese
South Korea
September 23, 2019
16:42 (UTC+09:00)
Korean
Russia
September 29, 2019
12:12 (UTC+10:00)
Russian
12:12 (UTC+07:00)
12:12 (UTC+05:00)
12:12 (UTC+03:00)
Germany
October 1, 2019
17:42 (UTC+02:00)
German
Austria
Liechtenstein
Luxembourg
Switzerland
Southeast Asia
October 26, 2019
10:42 (UTC+09:00)
09:42 (UTC+08:00)
08:42 (UTC+07:00)
English
Indonesian
Malay
Mandarin
Thai
09:42 (UTC+07:00)
Vietnamese (subtitles)
Hong Kong
January 10, 2020
18:42 (UTC+08:00)
English
Cantonese
Taiwan
Mandarin
Names in other languages
Arabic: معركة البراغيث
Bulgarian: Бълха-магедон
Cantonese: 跳蚤大災難
Czech: Blechokalypsa
Danish: Loppe inferno
Dutch: Vlooigeval
Finnish: Kirppumaailmanloppu
French: Les Pucetiférés
German: Angriff der Flöhe
Hebrew: פרעו-קליפסה
Hungarian: Bolhapokalipszis
Italian: Guerra alle pulci
Japanese: ノミマゲドン
Korean: 개벼룩 대소동
Mandarin: 跳蚤大災難
Norwegian: Lopp-ageddon
Polish: Pchłarmagedon
Portuguese (Brazil): Apocalipse das Pulgas
Portuguese (European): Ataque de Pulgas
Romanian: Purico-maggedon
Russian: Нашествие блох
Spanish (European): Pulga-magedón
Spanish (Latin American): Pulgamagedón
Swedish: Lus-magedon
Vietnamese: Chống lại bọ chét
Trivia
Gallery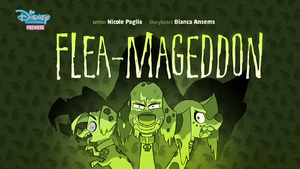 The image gallery for Flea-Mageddon may be viewed here.
References
Community content is available under
CC-BY-SA
unless otherwise noted.