— We gotta get home for dinner! —
This article is a stub. You can help 101 Dalmatian Street Wiki by expanding it.
Jurassic Pups is seventh short of season 1 of 101 Dalmatian Street TV series.
Synopsis
Fergus and Dylan take on a not so little challenge... to BUILD a pre-historic dinosaur!
Characters
Plot
Dylan gets a pre-historic dinosaur set to build. Fergus, however, tries everything to get his paws on the bones, but fails over and over. As Fergus goes to eat a bone Dylan takes it to add to the dino build.
After he gives Dylan the bone, he gets a chance to eat a giant bone he falls in love with. Dylan finishes his dinosaur only to realize a leg's missing and see Fergus has it and eats it, Fergus burps causes the artwork to collapse.
Fergus gasps as he thinks he possibly crushed his friend only to hear him sobbing in the dino head (like in the title card he wears). Fergus regrets what he did and helps Dylan.
Near the end, he goes to let go but get's told to go back.
Episode end with Dylan painting said artwork, while Fergus sighs into the camera.
Video
Gallery

Click here to view the gallery.
Trivia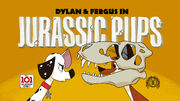 The short's title is a reference to the Jurassic Park franchise.
Another version of the title card exists, only this time a bit darker and Dylan has his mouth opened a little.
Community content is available under
CC-BY-SA
unless otherwise noted.