"May Contain Nuts" is the 6th episode of 101 Dalmatian Street and the second part of the third episode in the Disney+ release.
It was the 7th episode to be released worldwide. The episode originally aired in Germany, France, and Belgium on March 21, 2019 before airing in the UK 4 days later.
Synopsis
Dolly is inspired by the master of parkour Sid, and begs him to show her some moves.
Plot
For a full plot of "May Contain Nuts", click here.
Transcript
For a full transcript of "May Contain Nuts", click here.
Characters
International release
Country
Airdate
Time
Language version
Belgium
March 21, 2019
17:15 (UTC+01:00)
Dutch
French
France
French
Luxembourg
Switzerland
Germany
17:40 (UTC+01:00)
German
Austria
Liechtenstein
Luxembourg
Switzerland
Italy
March 22, 2019
19:15 (UTC+01:00)
Italian
Switzerland
United Kingdom
March 25, 2019
17:00 (UTC)
English
Ireland
Bulgaria
March 28, 2019
Bulgarian
Romania
Romanian
Moldova
Denmark
17:00 (UTC+02:00)
16:00 (UTC+01:00)
Danish
Finland
Finnish (subtitles)
Norway
Norwegian
Sweden
Swedish
Estonia
English
Russian
Latvia
Lithuania
Poland
Polish
Czechia
18:30 (UTC+01:00)
Czech
Hungary
Hungarian
South Africa
April 4, 2019
17:00 (UTC+04:00)
16:00 (UTC+03:00)
15:00 (UTC+02:00)
14:00 (UTC+01:00)
13:00 (UTC)
English
Middle East
Arabic
Greece
Greek
Spain
April 6, 2019
European Spanish
Andorra
Portugal
European Portuguese
Brazil
June 10, 2019
12:30 (UTC-02:00)
11:30 (UTC-03:00)
10:30 (UTC-04:00)
09:30 (UTC-05:00)
Brazilian Portuguese
Mexico
11:00 (UTC-05:00)
10:00 (UTC-06:00)
09:00 (UTC-07:00)
Latin American Spanish
South Korea
July 29, 2019
16:42 (UTC+09:00)
Korean
Japan
August 4, 2019
10:42 (UTC+09:00)
Japanese
Russia
September 14, 2019
12:12 (UTC+10:00)
Russian
12:12 (UTC+07:00)
12:12 (UTC+05:00)
12:12 (UTC+03:00)
Southeast Asia
October 12, 2019
10:42 (UTC+09:00)
09:42 (UTC+08:00)
08:42 (UTC+07:00)
English
Indonesian
Malay
Thai
09:42 (UTC+07:00)
Vietnamese (subtitles)
Hong Kong
November 29, 2019
18:42 (UTC+08:00)
English
Cantonese
Taiwan
Mandarin
Southeast Asia
September 26, 2020
10:42 (UTC+09:00)
09:42 (UTC+08:00)
08:42 (UTC+07:00)
Mandarin
Names in other languages
Arabic: جنون المكسرات
Bulgarian: Може да съдържа ядки
Cantonese: 拜師學藝
Czech: Sem s vořechem
Danish: Kan indeholde nødder
Dutch: Kan noten bevatten
Finnish: Saattaa sisältää pähkinää
French: Peut contenir des noisettes
German: Sid und die Nüsse
Hebrew: עשוי להכיל אגוזים
Hungarian: Magmánia
Italian: Pazzo per le nocciole
Japanese: ナッツに首ったけ
Mandarin: 拜師學藝
Norwegian: Kan inneholde nøtter
Polish: Twardy orzech do zgryzienia
Portuguese (Brazilian): Pode Conter Nozes
Portuguese (European): Pode Conter Nozes
Romanian: Poate conține nuci
Russian: Суета вокруг орехов
Spanish (European): Puede contener nueces
Spanish (Latin American): Obsesión por las nueces
Swedish: Kan innehålla spår av nötter
Turkish: Fıstık İçeriyor Olabilir
Vietnamese: Âm mưu hạt hạch
Trivia
This marks the first appearance of Pearl.
This episode features some of the first footage publicly shown for 101 Dalmatian Street, having appeared in the Ben Bailey Smith Interview when the voice cast was announced on Halloween of 2018.
This is the third time that World Wide Woof is used, the first two being "Who the Dog Do You Think You Are?" and "Walkies on the Wild Side".

When Dylan calls out the gag, we see three Dachshunds howling together, the street view by their window is Roger's Bachelor Flat from the beginning of One Hundred and One Dalmatians.

This is the first episode to air on a Thursday.
This is Hansel's first major role.
In Southeast Asia, Sid's line "Just pop this li'l sucker open for me." was censored, with the word "sucker" being trimmed out.
The episode's title is a reference to the may contain nuts warning on food, snacks, etc.
Although this episode aired in 2019, it was made in 2018 according to the credits.
This, "Walkies on the Wild Side", "Perfect Match" and "All Fired Up" are currently the lowest-rated episodes of the series in terms of US viewers, all of them being watched by 0.03 million viewers each.
Gallery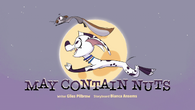 Click here to view the gallery.
References