"Poodlewolf!" is the 39th episode of 101 Dalmatian Street[1]. It aired in Italy on December 28, 2019.[2] It will then air in the UK on February 5, 2020.[3]
Synopsis
Dylan's mind gets stuck in his fave fantasy computer game: Poodlewolf!
Plot
TBA
Characters
International release
Country
Airdate
Time
Language version
Italy
December 28, 2019
09:20 (UTC+01:00)
Italian
Switzerland
Belgium
January 20, 2020
07:05 (UTC+01:00)
Dutch
French
United Kingdom
February 5, 2020
10:00 (UTC)
English
Ireland
Netherlands
February 8, 2020
10:30 (UTC+01:00)
Dutch
South Africa
February 16, 2020
February 17, 2020 (UTC+04:00)
00:00 (UTC+04:00)
23:00 (UTC+03:00)
22:00 (UTC+02:00)
21:00 (UTC+01:00)
20:00 (UTC)
English
Middle East
Arabic
Greece
Greek
Russia
February 18, 2020
16:35 (UTC+10:00)
Russian
16:35 (UTC+07:00)
16:35 (UTC+05:00)
16:35 (UTC+03:00)
Southeast Asia
February 21, 2020
13:00 (UTC+09:00)
12:00 (UTC+08:00)
11:00 (UTC+07:00)
English
Indonesian
Malay
Thai
12:00 (UTC+07:00)
Vietnamese (subtitles)
France
16:50 (UTC+01:00)
French
Luxembourg
Switzerland
Denmark
February 22, 2020
10:15 (UTC+02:00)
09:15 (UTC+01:00)
Danish
Finland
Finnish (subtitles)
Norway
Norwegian
Sweden
Swedish
Estonia
English
Latvia
Lithuania
Portugal
April 1, 2020
11:50 (UTC+01:00)
European Portuguese
Germany
April 1, 2020
18:00 (UTC+02:00)
German
Austria
Liechtenstein
Luxembourg
Switzerland
Spain
April 23, 2020
18:10 (UTC+02:00)
17:10 (UTC+01:00)
European Spanish
Andorra
Czechia
April 24, 2020
06:00 (UTC+02:00)
Czech
Hungary
Hungarian
Japan
May 17, 2020
10:30 (UTC+09:00)
Japanese
Hong Kong
June 5, 2020
18:30 (UTC+08:00)
English
Cantonese
Taiwan
Mandarin
Poland
June 12, 2020
22:20 (UTC+02:00)
Polish
Names in other languages
Cantonese: 陷入遊戲角色
Danish: Puddelulv!
Dutch: Poedelwolf
French: Canicheloup !
German: Pudelwolf
Hungarian: Lovagregény
Italian: Barboncino Lupo!
Japanese: プードル・ウルフ!
Mandarin: 陷入遊戲角色
Norwegian: Puddelulv!
Portuguese (European): Lobopoodle!
Russian: Пудель-волк!
Spanish (European): ¡Lobo-caniche!
Spanish (Latin American): Lobopoodle
Swedish: Pudelvarg!
Vietnamese: Sói Poodle
Trivia
Hansel arrives at the House to pick up Dylan for a Poetry Slam. This calls back to the episode "Poetry Scam" where Dylan & Hansel bond over their love for Poetry.
This is the last first season episode directed by Miklos Weigert.
In Southeast Asia, a part of Dolly's line "[...] and to kick in the butt [...]" was censored by trimming.
Gallery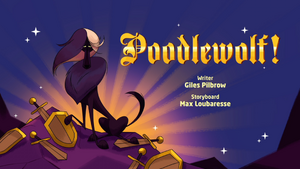 The image gallery for Poodlewolf! may be viewed here.
References
Community content is available under
CC-BY-SA
unless otherwise noted.