"We gotta get home for dinner!"
This article is a stub. You can help 101 Dalmatian Street Wiki by expanding it.
— WARNING! —
The below information contains spoilers for a episode or short. Please watch the episode or short in question if you haven't seen it already or view a different article.

When the episode or short becomes a year old (at least when it airs or releases in the UK and Ireland), this template would get removed.
"Puppy Dreams" is the first two-part clipshow episode of 101 Dalmatian Street. It serves as the 47th and 48th episodes of the show and originally aired in the UK on February 20, 2020.
Synopsis
In this clipshow, every dalmatian is having a restless night's sleep. Their dreams are the online shorts that are seen on various international Disney YouTube channels.
Plot
TBA
Characters
International release
Country
Airdate
Time
Language version
United Kingdom
February 20, 2020
04:43 (UTC)
English
Ireland
Netherlands
March 14, 2020
10:30 (UTC+01:00) (part 1)

---

10:41 (UTC+01:00) (part 2)
Dutch
Italy
March 29, 2020
19:45 (UTC+02:00)
Italian
Switzerland
Belgium
April 17, 2020
07:55 (UTC+02:00)
Dutch
French
Russia
May 1, 2020
14:40 (UTC+10:00)
Russian
14:40 (UTC+07:00)
14:40 (UTC+05:00)
14:40 (UTC+03:00)
Poland
June 22, 2020
22:20 (UTC+02:00)
Polish
Israel
July 16, 2020
17:25 (UTC+03:00)
Hebrew
Bulgaria
July 18, 2020
07:20 (UTC+03:00)
Bulgarian
Romania
Romanian
Moldova
Southeast Asia
July 26, 2020
10:30 (UTC+09:00)
09:30 (UTC+08:00)
08:30 (UTC+07:00)
English
Indonesian
Malay
Mandarin
Thai
09:30 (UTC+07:00)
Vietnamese (subtitles)
Brazil
August 23, 2020
14:30 (UTC-02:00)
13:30 (UTC-03:00)
12:30 (UTC-04:00)
11:30 (UTC-05:00)
Brazilian Portuguese
Names in other languages
Cantonese: 好好玩的夢
Dutch: Puppydromen
French: Rêves de chiots
German: Welpenträume
Hebrew: חלומות כלבלביים
Italian: I sogni del cucciolo
Mandarin: 好好玩的夢
Polish: Szczenięce sny
Russian: Сны щенят
Spanish (European): Sueño de cachorro
Spanish (Latin American): Lo que sueñan los cachorros
Trivia
This episode contains clips of 9 out of the 10 Gigglebug Guarantee shorts formatted into a two-part episode.

The only short not included in the clipshow is "Merry Pups", this is probably due that the short is Christmas themed and it would not make sense to add it in there.

This episode was originally scheduled to air on February 12, 2020, but was immediately replaced with a rerun of the first two episodes ("Dog's Best Friend" and "Boom Night") moments before the broadcast time.

This episode is also the first episode to premiere late night, originally on a slot for a late night rerun of "A Summer to Remember".

While not the last episode aired, it is the last first season episode in production order.
This is the first episode directed by Joonas Utti.
This is the first episode where the storyboarders have not been credited.
In the Disney+ episode list, there was an error where it was accidentally listed as the 27th episode (153 and 154 in production). However, actual sources say that it is the 26th episode like normal (151 and 152 in production).
This is the first (and so far only) episode to use the Gigglebug Entertainment logo.
This along with "The De Vil Wears Puppies" are the last episodes to air on the Italian version of Disney Channel before the channel closes on May 1, 2020 for the launch of Disney+ in Italy.[2]
Gallery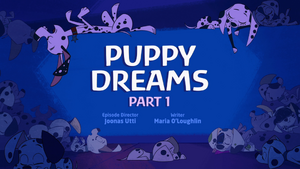 The image gallery for Puppy Dreams may be viewed here.
References
Community content is available under
CC-BY-SA
unless otherwise noted.