— WARNING! —
The below information contains spoilers for a episode or short. Please watch the episode or short in question if you haven't seen it already or view a different article.

When the episode or short becomes a year old (at least when it airs or releases in the UK and Ireland), this template would get removed.
"Ride Along" is the 38th episode of 101 Dalmatian Street. The episode originally aired in Italy on December 22, 2019, and then aired in the UK on February 4, 2020.[2]
Synopsis
Dolly accompanies Pearl on a patrol tour and realizes that there is much more to police work than she thought!
Plot
Episode starts when Pearl rescues Dorothy from dangerous situation. After that Dolly is amazed by what Pearl did says to her that she wants to become police officer and begs Pearl to gave her some lessons and take her on the patrol. She claims that she wants to learn from the best and that's Pearl. She starts begging her to the moment that Pearl finally agrees to take her the next day.
As the side plot, Chips is trying to eat french fires that were lying on the ground but pigeons get them before him and say that he can eat paper cone that was left on the ground.
The next day Dolly wakes up Dylan and says to him that her training is beginning that they. He says that she looks excited that they not understanding what she was talking about. For the rest of the day in house she is acting like cope and throwing at Dylan cliché police texts including: "Put your paws up". At the end Dylan conclude that with "Oh My Dog".
In the next scene in the park Roxy says to Dolly that she looks excellent while Snowball (I think, I can't understood that one well) that she doesn't see why. Meanwhile Clarissa wonders what Dolly has done to be punished with community service and how long will it last. She hopes it will be for long. Dolly sees Fergus eating from rubbish bin and tells him to stop. He (I believe, again, problems with translation) doesn't believe that Dolly works for police and talks to Pearl instead. She tells him to stop what he is doing unless he wants to be punished. Pearl is giving Dolly cadets badge for her great work.
Characters
International release
Country
Airdate
Time
Language version
Italy
December 22, 2019
09:20 (UTC+01:00)
Italian
Switzerland
Belgium
January 17, 2020
07:05 (UTC+01:00)
Dutch
French
Netherlands
February 2, 2020
10:30 (UTC+01:00)
Dutch
United Kingdom
February 4, 2020
10:15 (UTC)
English
Ireland
South Africa
February 9, 2020
February 10, 2020 (UTC+04:00)
00:37 (UTC+04:00)
23:37 (UTC+03:00)
22:37 (UTC+02:00)
21:37 (UTC+01:00)
20:37 (UTC)
English
Middle East
Arabic
Greece
Greek
Russia
February 11, 2020
17:20 (UTC+10:00)
Russian
17:20 (UTC+07:00)
17:20 (UTC+05:00)
17:20 (UTC+03:00)
Denmark
February 15, 2020
10:15 (UTC+02:00)
09:15 (UTC+01:00)
Danish
Finland
Finnish (subtitles)
Norway
Norwegian
Sweden
Swedish
Estonia
English
Latvia
Lithuania
Southeast Asia
February 20, 2020
13:12 (UTC+09:00)
12:12 (UTC+08:00)
11:12 (UTC+07:00)
English
Indonesian
Malay
Thai
12:12 (UTC+07:00)
Vietnamese (subtitles)
France
16:50 (UTC+01:00)
French
Luxembourg
Switzerland
Israel
March 5, 2020
17:12 (UTC+02:00)
Hebrew
Portugal
March 31, 2020
12:02 (UTC+01:00)
European Portuguese
Germany
March 31, 2020
18:00 (UTC+02:00)
German
Austria
Liechtenstein
Luxembourg
Switzerland
Spain
April 22, 2020
18:22 (UTC+02:00)
17:22 (UTC+01:00)
European Spanish
Andorra
Czechia
April 23, 2020
06:12 (UTC+02:00)
Czech
Hungary
Hungarian
Brazil
April 24, 2020
12:30 (UTC-02:00)
11:30 (UTC-03:00)
10:30 (UTC-04:00)
09:30 (UTC-05:00)
Brazilian Portuguese
Mexico
10:15 (UTC-05:00)
09:15 (UTC-06:00)
08:15 (UTC-07:00)
Latin American Spanish
Japan
May 16, 2020
14:12 (UTC+09:00)
Japanese
Hong Kong
May 29, 2020
18:30 (UTC+08:00)
English
Cantonese
Taiwan
Mandarin
Poland
June 11, 2020
22:32 (UTC+02:00)
Polish
Bulgaria
June 21, 2020
07:42 (UTC+03:00)
Bulgarian
Romania
Romanian
Moldova
Names in other languages
Cantonese: 警察與小偷
Czech: Na pochůzce
Danish: Kadet for en dag
Dutch: Dolly de politiehond
French: Chien policier
German: Die Polizei, dein Pferd und Helfer
Hebrew: יום אימונים עם זנב
Hungarian: Tiszteletlen tiszthelyettes
Italian: Giro di pattuglia
Japanese: 正義の味方
Mandarin: 警察與小偷
Norwegian: Bli med og ri
Polish: Praktyki policyjne
Portuguese (Brazilian): Fazendo a Ronda
Portuguese (European): Patrulha
Russian: Совместное дежурство
Spanish (European): De patrullaje
Spanish (Latin American): Dolly policia
Swedish: Ridtur
Vietnamese: Cảnh sát tập sự
Trivia
In the episode, after it's acknowledged that Dallas' collar is missing, Dolly accuses Dorothy of stealing it. This is a callback to the previous episode, "Diamond Dogs", where she accidentally stole Clarissa's collar. Although, this is an odd accusation to make in the end, since the collar just looked like Clarissa's by sheer coincidence.
Since Chips is already in Camden Town, this episode takes place after the events of "A Summer to Remember".
This marks the first time that the World Wide Woof just has a cameo.

This is also the first time that Snowball was the user for the gag.

In Southeast Asia, an instance of Clarissa saying "hooligan" about Dolly to Pearl was censored by trimming.
Gallery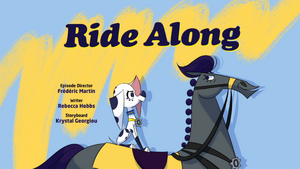 The image gallery for Ride Along may be viewed here.
References
Community content is available under
CC-BY-SA
unless otherwise noted.