— WARNING! —
The below information contains spoilers for a episode or short. Please watch the episode or short in question if you haven't seen it already.
"Snow Day" is the 8th episode of 101 Dalmatian Street. It was the 9th episode to be released. The episode originally aired in Germany, France, and Belgium on March 25, 2019 before airing in the UK 2 days later.
Synopsis
London grinds to a halt because of snow, so the family has some fun; but crisis arises when Dylan and Dolly have to get the whole family ready.
Characters
Plot
International release
Country
Airdate
Time
Language version
Belgium
March 25, 2019
17:15 (UTC+01:00)
Dutch
French
France
French
Luxembourg
Switzerland
Germany
17:40 (UTC+01:00)
German
Austria
Liechtenstein
Luxembourg
Switzerland
Italy
March 26, 2019
19:15 (UTC+01:00)
Italian
Switzerland
United Kingdom
March 27, 2019
English
Ireland
Bulgaria
April 1, 2019
Bulgarian
Romania
Romanian
Moldova
Denmark
17:00 (UTC+03:00)
16:00 (UTC+02:00)
Danish
Finland
Finnish (subtitles)
Norway
Norwegian
Sweden
Swedish
Estonia
English
Russian
Latvia
Lithuania
Poland
Polish
Czechia
18:30 (UTC+02:00)
Czech
Hungary
Hungarian
South Africa
April 8, 2019
17:00 (UTC+04:00)
16:00 (UTC+03:00)
15:00 (UTC+02:00)
14:00 (UTC+01:00)
13:00 (UTC)
English
Middle East
Arabic
Greece
Greek
Spain
April 13, 2019
European Spanish
Andorra
Portugal
European Portuguese
Brazil
June 12, 2019
12:30 (UTC-02:00)
11:30 (UTC-03:00)
10:30 (UTC-04:00)
09:30 (UTC-05:00)
Brazilian Portuguese
Mexico
11:00 (UTC-05:00)
10:00 (UTC-06:00)
09:00 (UTC-07:00)
Latin American Spanish
South Korea
August 5, 2019
16:42 (UTC+09:00)
Korean
Japan
August 11, 2019
10:42 (UTC+09:00)
Japanese
Russia
October 12, 2019
12:12 (UTC+10:00)
Russian
12:12 (UTC+07:00)
12:12 (UTC+05:00)
12:12 (UTC+03:00)
Hong Kong
December 6, 2019
18:42 (UTC+08:00)
English
Cantonese
Taiwan
Mandarin
Southeast Asia
December 7, 2019
10:42 (UTC+09:00)
09:42 (UTC+08:00)
08:42 (UTC+07:00)
English
Indonesian
Malay
Mandarin
Thai
09:42 (UTC+07:00)
Vietnamese (subtitles)
Names in other languages
Arabic: يوم الثلج
Bulgarian: Снежен ден
Cantonese: 玩雪囉
Czech: Sněžný den
Danish: Snevejrsdag
Dutch: Sneeuwdag
French: Jour de neige
German: Auf die Mützen, fertig, los!
Hebrew: יום שלג
Hungarian: Hószünet
Italian: Un giorno con la neve
Japanese: 雪の日
Mandarin: 玩雪囉
Norwegian: Snødagen
Polish: Dzień śniegu
Portuguese (Brazilian): Dia de Neve
Portuguese (European): Dia de Neve
Romanian: Ziua zăpezii
Russian: Снежный день
Spanish (European): Día de nieve
Spanish (Latin American): Día nevado
Swedish: Snödag
Turkish: Karlı Gün
Vietnamese: Ngày tuyết rơi
Trivia
This episode uses the same title card design as "Winter Funderland".

It is also the second time that a title card design was used as a stock, the first being "Power to the Puppies".

This episode is a possible sequel to the previous episode, both with how Dee Dee & Dizzy refer to snow as they do in said, but also Doug's comments about the weather forecasts.

You may count them both together as a two-part special.

This marks Deepak's first vocal appearance.
Gallery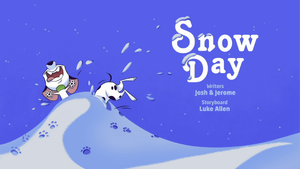 The image gallery for Snow Day may be viewed here.
References
Community content is available under
CC-BY-SA
unless otherwise noted.