"Snow Day" is the 8th episode of 101 Dalmatian Street. It was the 9th episode to be released worldwide. The episode originally aired in Germany, France, and Belgium on March 25, 2019 before airing in the UK 2 days later.
Synopsis
London grinds to a halt because of snow, so the family has some fun; but crisis arises when Dylan and Dolly have to get the whole family ready.
Plot
Doug emerges from the dog pile chuckling in amusement, he tells his pups that they can have one last hug before he leaves, which the pups gladly gives him another dog pile hug. Doug, once again, emerges from the dog pile from the side and begins dragging the mass of pups with him, where the pups exclaimed, "Love you!", where Dough replies, "Aww, love you more." Dylan, Dolly, and Delilah happily laughs with their loving family. Dolly comments of how tough it is to escape from a puppy pile where Dylan replies to her, while simultaneously compliments Dough, that it only took him ten minutes to escape. Dough immediately gets up and says bye to his honeys, he sets his front paw on the scanner to open the door. Delilah was in the middle of saying goodbye to her children but before she can finish her sentence, a blast of cold, ice wind interrupts her, and she is in awed of the falling snow. "Whoa! Snow?" she questioned. Dizzy and Dee Dee excitingly say, "Fluffy? Freezy?", respectively.
Beautiful snow generously falls on the buildings, vehicles, roads, and all of Camden Town. All the young children yayed excitingly, Dough laughs, "Are the weather forecasts here ever right?" as he says to himself. A small snowflake lands on Dorothy nose, she laughs gleefully has she feels the snowflake's coldness, she proceeds to eat the snowflake to her satisfaction. Dylan thoughtfully starts to say, "Guess this means...", "London's gonna be closed today!", interruptedly exclaims Doug. Cars are gridlock and hocking to each other at an intersection where there is a pile of snow blocking the middle section, a cyclist rides on top of the snow, which the cyclist later succeeds on falling onto the side of the snow pile. The Mailman, while hugging a carrier box, slides helplessly on the road heading to who knows where, it appears that he was not prepared for a sudden snowfall during his route.
"Yay! Snow day!" says Dolly while hanging upside down from the door. "No work for you two!" Dylan says excitingly to his parents. Dizzy asks Doug if they can play in the park, which Dee Dee joins in as well with a "Can we?", and later the rest of the children, "Please?", they said innocently. Dylan immediately steps up and tells his parents not to worry since he will get all the pups ready; however, his mom stops him before he can line up the pups. Delilah takes charge and tells her pups to line up the stairs to have a quick medical check-up, which the pups were happy to comply with their mother request. Each pup opens thier mouth for their mother to inspect with a green glowing, squeaky kitty toy. Dylan and Dolly tell their mother that they have already checked and that the pups were fine and healthy. Delilah ignores them and continues, Dolly says, "Well, this is going to take a while." with an annoyed facial expression. Where Dylan has a bored facial expression.
Doug excitingly comes in as a hat reindeer and starts putting winter hats on his beloved honeys, where the children excitingly went along. Deepak responds to his father, "We know it's you, Doug.", Doug proceeds to put a hat on Deepak, which he is not amused of wearing it. Dylan and Dolly simultaneously say that they are never getting out of their house for snow day. Has Doug continues to put hats on each pup, a speedy puppy on a red wheelchair speeds down the hall of the second floor, skipping the line, and speed past Doug, where Doug unexpectedly puts the hat on the speedy pup. This action resulted the speedy pup to fall down the stairs blindly, where Doug tried his best to prevent the fall but fails to catch him on time. In which the speedy pup knew what will happen next, repeatedly exclaim sorry for the ones who will feel his fall and tumbles. Puppies began to scream and tumble down the stairs with the speedy puppy, while falling bowling pins sound were used to emphasize the fall. Doug looks at the chaos helplessly not knowing what to do next. "Strike!" as Dylan and Dolly said at the same time, laughing at what just happened.
Delilah angrily asks the two older pups of why they are not helping, in which Dylan response to her that they did tried to help but she has taken over their role. As she was about to answer to Dylan's response, she realized that the glow toy went missing and redirects her gaze away from the two older pups. Her gaze soon lands on a pup that is glowing green from the kitten toy that is currently inside of his stomach, where the pup later states that he has achieved his inner light. Delilah skillfully removes the toy swiftly from him by giving him a pat to the back. The pup propels the toy with force in which it was heading towards Dolly; however, she skillfully dodges the toy, but Dylan was right behind her and takes the full force of the toy onto his face. Dylan soon recovers from the impact, but the toy was lodged into his eye socket, giving him one glowing green eye. Dolly starts chuckling quietly. Doug steps in and tells the two that they need to understand that there are a lot of pups to get ready. Dylan replies to him that they know, and Dolly tells her father that they do this routine every day.
Delilah steps in and tells the two if they can ever get to the park, the pups heard the term "Park" from their mother, they immediately dog pile their parents excitedly. Doug laughs happily being in the dog pile. Dolly laughs at them and scoffs at them for using a trigger word. Which Dylan replies to them, "Rookie mistake." Doug emerges from the dog pile and exclaims how much he loves them. Dolly proposes a challenge where she and Dylan will take half the pups and their parents take the other half and see whose group will come out victorious by getting the pups winter ready first. From a bird's eye view, the pups are separated into two groups, Dorothy is the only one left in the center, she happily joins Dylan and Dolly's team. "Make the best team win.", says, pridefully, Dolly. "I.e. us!" says Dylan right after.
The two teams begin their competitons, getting the pups ready with their own methods. During their preparement methods, they both went through complications of getting some of the pups ready and meal-time malfunctions. Dolly was preparing her sled by removing her skateboard wheels and oiling it up with Triple D's expensive shampoo. Unfortunately, when she was trying to apply it, the pack burst at the end, splattering Deepak in the process, which the splatter momentum caused Deepak to be launched and slide through out the house, leaving a trail of shampoo and eventually got himself covered in dog kibble when helping his father, Doug, to operate the kibble dispenser. In the end Deepak was the only one that was not ready in the end of the competition since he was in a complete mess, covered in shampoo and kibble, Deepak ended up having a meltdown over of what just happened to him during the competition. Thus, Delilah and Doug wins the competition and tells Dylan and Dolly that they will take it from there to care of the last pup. Dylan throws a rebel teen fit and storms off the house with Dolly, in which he tells her that he has never done that before. Dolly replies, "Feels good, right?". "Yeah, We are so outta here!", as he was saying that, he quickly returns back to the house to make a quick head count since he is a very responsible big brother. Where Dolly embarrassingly says, "Not exactly nailing the teen rebel thing, bro."
After completing the head count,
Characters
International release
Country
Airdate
Time
Language version
Belgium
March 25, 2019
17:15 (UTC+01:00)
Dutch
French
France
French
Luxembourg
Switzerland
Germany
17:40 (UTC+01:00)
German
Austria
Liechtenstein
Luxembourg
Switzerland
Italy
March 26, 2019
19:15 (UTC+01:00)
Italian
Switzerland
United Kingdom
March 27, 2019
English
Ireland
Bulgaria
April 1, 2019
Bulgarian
Romania
Romanian
Moldova
Denmark
17:00 (UTC+03:00)
16:00 (UTC+02:00)
Danish
Finland
Finnish (subtitles)
Norway
Norwegian
Sweden
Swedish
Estonia
English
Russian
Latvia
Lithuania
Poland
Polish
Czechia
18:30 (UTC+02:00)
Czech
Hungary
Hungarian
South Africa
April 8, 2019
17:00 (UTC+04:00)
16:00 (UTC+03:00)
15:00 (UTC+02:00)
14:00 (UTC+01:00)
13:00 (UTC)
English
Middle East
Arabic
Greece
Greek
Spain
April 13, 2019
European Spanish
Andorra
Portugal
European Portuguese
Brazil
June 12, 2019
12:30 (UTC-02:00)
11:30 (UTC-03:00)
10:30 (UTC-04:00)
09:30 (UTC-05:00)
Brazilian Portuguese
Mexico
11:00 (UTC-05:00)
10:00 (UTC-06:00)
09:00 (UTC-07:00)
Latin American Spanish
South Korea
August 5, 2019
16:42 (UTC+09:00)
Korean
Japan
August 11, 2019
10:42 (UTC+09:00)
Japanese
Russia
October 12, 2019
12:12 (UTC+10:00)
Russian
12:12 (UTC+07:00)
12:12 (UTC+05:00)
12:12 (UTC+03:00)
Hong Kong
December 6, 2019
18:42 (UTC+08:00)
English
Cantonese
Taiwan
Mandarin
Southeast Asia
December 7, 2019
10:42 (UTC+09:00)
09:42 (UTC+08:00)
08:42 (UTC+07:00)
English
Indonesian
Malay
Mandarin
Thai
09:42 (UTC+07:00)
Vietnamese (subtitles)
Names in other languages
Arabic: يوم الثلج
Bulgarian: Снежен ден
Cantonese: 玩雪囉
Czech: Sněžný den
Danish: Snevejrsdag
Dutch: Sneeuwdag
French: Jour de neige
German: Auf die Mützen, fertig, los!
Hebrew: יום שלג
Hungarian: Hószünet
Italian: Un giorno con la neve
Japanese: 雪の日
Mandarin: 玩雪囉
Norwegian: Snødagen
Polish: Dzień śniegu
Portuguese (Brazilian): Dia de Neve
Portuguese (European): Dia de Neve
Romanian: Ziua zăpezii
Russian: Снежный день
Spanish (European): Día de nieve
Spanish (Latin American): Día nevado
Swedish: Snödag
Turkish: Karlı Gün
Vietnamese: Ngày tuyết rơi
Trivia
This episode uses the same title card design as "Winter Funderland".

It is also the second time that a title card design was used as a stock, the first being "Power to the Puppies".

This episode is a possible sequel to the previous episode, both with how Dee Dee and Dizzy refer to snow as they do in said, but also Doug's comments about the weather forecasts.

You may count them both together as a two-part special.

This marks Deepak's first vocal appearance.
Gallery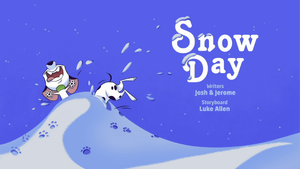 The image gallery for Snow Day may be viewed here.
References
Community content is available under
CC-BY-SA
unless otherwise noted.