— WARNING! —
The below information contains spoilers for a episode or short. Please watch the episode or short in question if you haven't seen it already or view a different article.

When the episode or short becomes a year old (at least when it airs or releases in the UK and Ireland), this template would get removed.
"The Dog House" is 24th episode of 101 Dalmatian Street, but the 26th released worldwide. The episode originally aired on September 1, 2019.
Synopsis
Clarissa tricks the dalmatian pups into going wild.
Plot
Delilah is at work at the hospital with her human companion Doctor Dave who tells her about his personal life having to raise three children, which Delilah finds ironic. Back at the house, the dalmatians are playing in the backyard with Dylan showing off his hiding place blue prints to Dolly for a future hide and seek game. When Clarissa gets splashed by their water hose, she resolves to rid herself of the dalmatians once and for all. Taking one of Hugo's slippers, she tosses it over to the dalmatians yard and beckons Dylan to fight with it after comparing herself to him, something he finds insulting. Dylan proceeds to rip the slipper in half with Dizzy which is witnessed by Hugo. He then falls on a thorn bush, left by Clarissa, and becomes convinced that the dalmatians attacked him. At the hospital, Hugo yells on the phone with Lord Nincompoop about the dalmatians having attacked him, though Dave and Delilah clearly see that he has a large thorn in his butt, and decide to numb him while they yank the thorn out. Before they do so however, Delilah hears Hugo call pest control to come and take away the puppies on Dalmatian Street. Delilah yanks the thorn out and Dave accidentally injects himself with the numbing serum, making him lethargic. Delilah and a slightly unconscious Dave race down the street on an electric wheel chair with the former sending a message out to the dalmatians that pest control is coming. The dalmatians scramble as since they do not have an owner, the likelihood of them being taken away is immense. Delilah runs into Pearl who agrees to aid them is keeping pest control away.
The dalmatians create a human using a coat, balloon and a voice box of random phrases. As soon as Delilah and Dave arrive, they destroy the figure and Dave falls unconscious again. Dylan then uses his blue prints to hide all of the dalmatians and Dave wakes up in time to act as their owner. Pest control arrives and only see Dave, Dylan, Dolly, Delilah and Dorothy as the only dogs. Convinced that it was a false alarm, pest control leaves and the dogs thank Dave by dog piling on him. Clarissa is angered that pest control did nothing and barks at them. Believing that she is rabid, they capture her instead while the rest of the puppies ride away on the electric wheelchair.
Characters
International release
Country
Airdate
Time
Language version
United Kingdom
September 1, 2019
07:00 (UTC+01:00)
English
Ireland
Italy
September 29, 2019
Italian
Switzerland
Germany
October 4, 2019
17:42 (UTC+02:00)
German
Austria
Liechtenstein
Luxembourg
Switzerland
Portugal
October 12, 2019
11:56 (UTC+01:00)
European Portuguese
Japan
October 13, 2019
10:42 (UTC+09:00)
Japanese
Russia
12:12 (UTC+10:00)
Russian
12:12 (UTC+07:00)
12:12 (UTC+05:00)
12:12 (UTC+03:00)
Czechia
October 19, 2019
06:12 (UTC+02:00)
Czech
Hungary
Hungarian
Poland
Polish
Bulgaria
Bulgarian
Romania
Romanian
Moldova
Netherlands
October 27, 2019
Dutch
Denmark
November 2, 2019
10:00 (UTC+02:00)
09:00 (UTC+01:00)
Danish
Finland
Finnish (subtitles)
Norway
Norwegian
Sweden
Swedish
Estonia
English
Russian
Latvia
Lithuania
France
November 11, 2019
07:10 (UTC+01:00)
French
Luxembourg
Switzerland
Southeast Asia
November 16, 2019
10:42 (UTC+09:00)
09:42 (UTC+08:00)
08:42 (UTC+07:00)
English
Indonesian
Malay
Thai
09:42 (UTC+07:00)
Vietnamese (subtitles)
Brazil
December 5, 2019
12:30 (UTC-02:00)
11:30 (UTC-03:00)
10:30 (UTC-04:00)
09:30 (UTC-05:00)
Brazilian Portuguese
Mexico
12:00 (UTC-05:00)
11:00 (UTC-06:00)
10:00 (UTC-07:00)
09:00 (UTC-08:00)
Latin American Spanish
Australia
December 8, 2019
English
New Zealand
Hong Kong
March 13, 2020
18:30 (UTC+08:00)
English
Cantonese
Taiwan
Mandarin
Spain
April 6, 2020
18:22 (UTC+02:00)
17:22 (UTC+01:00)
European Spanish
Andorra
Names in other languages
Bulgarian: Кучешката къща
Cantonese: 搶救狗狗大作戰
Czech: Psí dům
Danish: Hundehuset
Dutch: Gekkenhuis
French: Chiens sauvages
German: Außer Rand und Band
Hebrew: בית הכלבים
Hungarian: Világvége veszély
Italian: La casa dei cani
Japanese: 犬の館
Mandarin: 搶救狗狗大作戰
Norwegian: Hundehuset
Polish: Dom psi
Portuguese (Brazilian): A Casa dos Cachorros
Portuguese (European): A Casa de Cães
Romanian: Casa cu câini
Russian: Полон дом собак
Spanish (European): La perrera
Spanish (Latin American): La perrera
Swedish: Hundhuset
Vietnamese: Ban kiểm soát thú cưng
Trivia
This is the first appearance of Doctor Dave.
This is the second episode to have a stock title card design be repeated after it's sister episode.
When Dolly builds her "Human", the Hat is is wearing is the same one which Anita wears when Pongo arranges the meeting between her & Roger, in One Hundred and One Dalmatians.

It's Coat also appears to be the one Roger wears, during the Twilight Bark Sequence.

The World Wide Woof running gag strikes again, only this time, Delilah is the user.
Gallery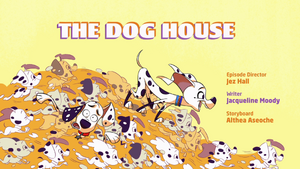 The image gallery for The Dog House may be viewed here.
References
Community content is available under
CC-BY-SA
unless otherwise noted.