— WARNING! —
The below information contains spoilers for a episode or short. Please watch the episode or short in question if you haven't seen it already or view a different article.

When the episode or short becomes a year old (at least when it airs or releases in the UK and Ireland), this template would get removed.
"The Walls Are Alive"[2] is the 36th episode of 101 Dalmatian Street. The episode originally aired in the Netherlands on December 8, 2019.[3] It then aired in the UK on February 3, 2020.[4]
Synopsis
The puppies disappear one by one. Do the walls eat them, or is something else going on?
Plot
TBA
Characters
International release
Country
Airdate
Time
Language version
Netherlands
December 8, 2019
10:30 (UTC+01:00)
Dutch
Italy
December 15, 2019
09:20 (UTC+01:00)
Italian
Switzerland
Belgium
January 14, 2020
07:05 (UTC+01:00)
Dutch
French
Denmark
February 1, 2020
10:15 (UTC+02:00)
09:15 (UTC+01:00)
Danish
Finland
Finnish (subtitles)
Norway
Norwegian
Sweden
Swedish
Estonia
English
Latvia
Lithuania
United Kingdom
February 3, 2020
10:15 (UTC)
English
Ireland
South Africa
February 9, 2020
February 10, 2020 (UTC+04:00)
00:12 (UTC+04:00)
23:12 (UTC+03:00)
22:12 (UTC+02:00)
21:12 (UTC+01:00)
20:12 (UTC)
English
Middle East
Arabic
Greece
Greek
France
February 18, 2020
16:50 (UTC+01:00)
French
Luxembourg
Switzerland
Southeast Asia
February 19, 2020
13:12 (UTC+09:00)
12:12 (UTC+08:00)
11:12 (UTC+07:00)
English
Indonesian
Malay
Thai
12:12 (UTC+07:00)
Vietnamese (subtitles)
Israel
March 4, 2020
17:12 (UTC+02:00)
Hebrew
Japan
March 22, 2020
10:42 (UTC+09:00)
Japanese
Portugal
March 30, 2020
12:25 (UTC+01:00)
European Portuguese
Germany
April 6, 2020
18:00 (UTC+02:00)
German
Austria
Liechtenstein
Luxembourg
Switzerland
Spain
April 21, 2020
18:22 (UTC+02:00)
17:22 (UTC+01:00)
European Spanish
Andorra
Czechia
April 22, 2020
06:12 (UTC+02:00)
Czech
Hungary
Hungarian
Brazil
12:30 (UTC-02:00)
11:30 (UTC-03:00)
10:30 (UTC-04:00)
09:30 (UTC-05:00)
Brazilian Portuguese
Mexico
10:15 (UTC-05:00)
09:15 (UTC-06:00)
08:15 (UTC-07:00)
Latin American Spanish
Hong Kong
May 15, 2020
18:30 (UTC+08:00)
English
Cantonese
Taiwan
Mandarin
Poland
June 10, 2020
22:32 (UTC+02:00)
Polish
Bulgaria
June 20, 2020
07:42 (UTC+03:00)
Bulgarian
Romania
Romanian
Moldova
Names in other languages
Cantonese: 牆壁驚魂記
Czech: Živé zdi
Danish: Væggene er i live
Dutch: De muren leven
French: Les murs sont vivants
German: Lebende Mauern
Hebrew: הקירות חיים
Hungarian: Borzongató bújócska
Italian: Il potere della meditazione
Japanese: 生きてる壁
Mandarin: 牆壁驚魂記
Norwegian: Veggene lever
Polish: Te ściany żyją
Portuguese (Brazilian): As Paredes Estão Vivas
Portuguese (European): As Paredes Estão Vivas
Russian: Живые стены
Spanish (European): Las paredes están vivas
Spanish (Latin American): Los muros tienen vida
Swedish: Väggarna lever
Vietnamese: Những bức tường sống đậy
Trivia
Gallery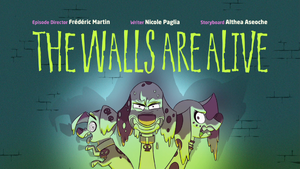 The image gallery for The Walls Are Alive may be viewed here.
References
Community content is available under
CC-BY-SA
unless otherwise noted.