— WARNING! —
The below information contains spoilers for a episode or short. Please watch the episode or short in question if you haven't seen it already or view a different article.

When the episode or short becomes a year old (at least when it airs or releases in the UK and Ireland), this template would get removed.
"The Wow of Miaow" is the 22nd episode of 101 Dalmatian Street. The episode originally aired on August 25, 2019.
Synopsis
Dylan's cat allergies causes Guru-Miaow devotee Deepak to leave home and move in with their feline neighbour Constantin.
Plot
TBA
Characters
International release
Country
Airdate
Time
Language version
United Kingdom
August 25, 2019
07:00 (UTC+01:00)
English
Ireland
Brazil
September 17, 2019
12:30 (UTC-02:00)
11:30 (UTC-03:00)
10:30 (UTC-04:00)
09:30 (UTC-05:00)
Brazilian Portuguese
Mexico
11:00 (UTC-05:00)
10:00 (UTC-06:00)
09:00 (UTC-07:00)
Latin American Spanish
Italy
September 22, 2019
Italian
Switzerland
Germany
October 3, 2019
17:42 (UTC+02:00)
German
Austria
Liechtenstein
Luxembourg
Switzerland
Japan
October 6, 2019
10:42 (UTC+09:00)
Japanese
Russia
12:12 (UTC+10:00)
Russian
12:12 (UTC+07:00)
12:12 (UTC+05:00)
12:12 (UTC+03:00)
Czechia
October 12, 2019
06:12 (UTC+02:00)
Czech
Hungary
Hungarian
Poland
Polish
Portugal
11:33 (UTC+01:00)
European Portuguese
Bulgaria
Bulgarian
Romania
Romanian
Moldova
Denmark
October 19, 2019
10:00 (UTC+03:00)
09:00 (UTC+02:00)
Danish
Finland
Finnish (subtitles)
Norway
Norwegian
Sweden
Swedish
Estonia
English
Russian
Latvia
Lithuania
Netherlands
October 20, 2019
10:30 (UTC+02:00)
Dutch
France
November 5, 2019
07:10 (UTC+01:00)
French
Luxembourg
Switzerland
Southeast Asia
November 9, 2019
10:42 (UTC+09:00)
09:42 (UTC+08:00)
08:42 (UTC+07:00)
English
Indonesian
Malay
Mandarin
Thai
09:42 (UTC+07:00)
Vietnamese (subtitles)
Australia
December 1, 2019
English
New Zealand
Hong Kong
February 28, 2020
18:30 (UTC+08:00)
English
Cantonese
Taiwan
Mandarin
Spain
March 8, 2020
09:46 (UTC+01:00)
08:46 (UTC)
European Spanish
Andorra
Names in other languages
Bulgarian: Уау за мяу
Cantonese: 神喵之道
Czech: Kočičí obdiv
Danish: Miav Wauw Wauw
Dutch: De Wauw van Miauw
French: Le Gourou Miaou
German: Hund und Katz
Hebrew: הוואו במיאו
Hungarian: Macska karma kicsikarva
Italian: Il uao di Miao
Japanese: 猫神様の教え
Mandarin: 神喵之道
Polish: Księga Wow Miau
Portuguese (Brazilian): O Uau do Miau
Portuguese (European): O Uau do Miau
Romanian: Acel uau miau
Russian: Вау-Мяу
Spanish (European): El guau de Miau
Spanish (Latin American): El Guau Miau
Swedish: Wowet i Mjauet
Vietnamese: Đạo Mèo
Trivia
This is the first episode that aired on a Sunday.
Gallery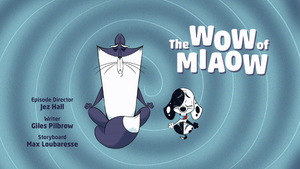 The image gallery for The Wow of Miaow may be viewed here.
References
Community content is available under
CC-BY-SA
unless otherwise noted.