"Winter Funderland" is the 7th episode of 101 Dalmatian Street and the first part of the fourth episode in the Disney+ release.
It was the 8th episode to be released worldwide. The episode originally aired in Germany, France, and Belgium on March 21, 2019 before airing in the UK 4 days later.
Synopsis
When the snowstorm of the century doesn't plan out as promised, Dolly takes matters into her own paws and turns the house into a frozen wonderland.
Plot
For a full plot of "Winter Funderland", click here.
Transcript
For a full transcript of "Winter Funderland", click here.
Characters
International release
Country
Airdate
Time
Language version
Belgium
March 22, 2019
17:15 (UTC+01:00)
Dutch
French
France
French
Luxembourg
Switzerland
Germany
17:40 (UTC+01:00)
German
Austria
Liechtenstein
Luxembourg
Switzerland
Italy
March 25, 2019
19:15 (UTC+01:00)
Italian
Switzerland
United Kingdom
March 26, 2019
17:00 (UTC)
English
Ireland
Bulgaria
March 29, 2019
Bulgarian
Romania
Romanian
Moldova
Denmark
17:00 (UTC+02:00)
16:00 (UTC+01:00)
Danish
Finland
Finnish (subtitles)
Norway
Norwegian
Sweden
Swedish
Estonia
English
Russian
Latvia
Lithuania
Poland
Polish
Czechia
18:30 (UTC+01:00)
Czech
Hungary
Hungarian
South Africa
April 5, 2019
17:00 (UTC+04:00)
16:00 (UTC+03:00)
15:00 (UTC+02:00)
14:00 (UTC+01:00)
13:00 (UTC)
English
Middle East
Arabic
Greece
Greek
Spain
April 13, 2019
European Spanish
Andorra
Portugal
European Portuguese
Brazil
June 11, 2019
12:30 (UTC-02:00)
11:30 (UTC-03:00)
10:30 (UTC-04:00)
09:30 (UTC-05:00)
Brazilian Portuguese
Mexico
11:00 (UTC-05:00)
10:00 (UTC-06:00)
09:00 (UTC-07:00)
Latin American Spanish
South Korea
August 5, 2019
16:30 (UTC+09:00)
Korean
Japan
August 11, 2019
10:30 (UTC+09:00)
Japanese
Russia
October 12, 2019
12:00 (UTC+10:00)
Russian
12:00 (UTC+07:00)
12:00 (UTC+05:00)
12:00 (UTC+03:00)
Hong Kong
December 6, 2019
18:30 (UTC+08:00)
English
Cantonese
Taiwan
Mandarin
Southeast Asia
December 7, 2019
10:30 (UTC+09:00)
09:30 (UTC+08:00)
08:30 (UTC+07:00)
English
Indonesian
Malay
Mandarin
Thai
09:30 (UTC+07:00)
Vietnamese (subtitles)
Names in other languages
Arabic: أرض المرح الشتوية
Bulgarian: Зимно забавление
Cantonese: 寒冬玩樂園
Czech: Zimní radovánky
Danish: Vinter Muntreland
Dutch: Winter Wonderland
French: La Fête foraine de l'hiver
German: Schneefrei
Hebrew: פארק שעשועים חורפי
Hungarian: Téli hó-ka móka
Italian: Il parco dei divertimenti invernali
Japanese: 冬のワクワクランド
Mandarin: 寒冬玩樂園
Norwegian: Moro-vinterland
Polish: Zimowy raj
Portuguese (Brazilian): A Terra das Diversões de Inverno
Portuguese (European): Divertilândia de Inverno
Romanian: Iarnă de vis
Russian: Зимняя сказка
Spanish (European): Winter Diverland
Spanish (Latin American): Divertilandia Invernal
Swedish: Lattjo Vinterland
Turkish: Kış Diyarı
Vietnamese: Vùng đất mùa đông vui nhộn
Trivia
This episode marks the first appearances of Dimitri Trio, Portia Poodle, Spencer Sausage Dog and Roxy.
This is the third time in a row that World Wide Woof is in use with Dolly this time being the user instead of Dylan or Clarissa (or even Fergus).
This is the first episode to air on Friday as a stand-alone segment.
When the pups are watching television at the start of the episode, one pup sits on Doug's head, in a similar fashion to Freckles on Pongo's head in One Hundred and One Dalmatians.
Based on Sid's mannerisms, when the Canal Crew enter the house, it is possible he is still recovering from the events of "May Contain Nuts".
When Dolly asks why everyone is looking at her weird, Dawkins and Dylan eerily are frozen solid with a dead eyed stare. This is a reference to a scene in the Stanley Kubrick film adaptation of Stephen King's The Shining.
Although this episode aired in 2019, it was made in 2018 according to the credits.
Gallery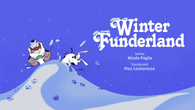 Click here to view the gallery.
References